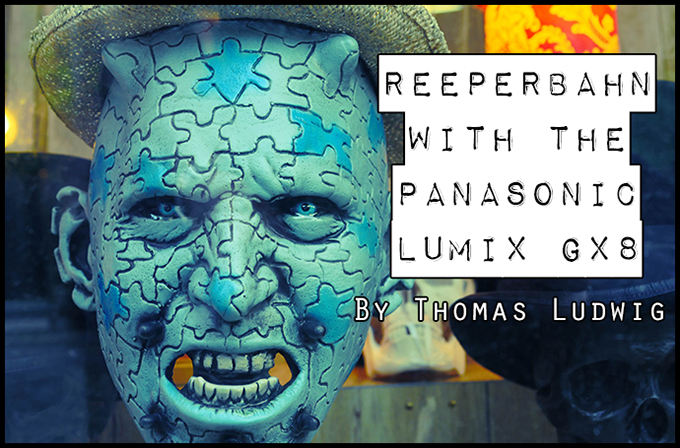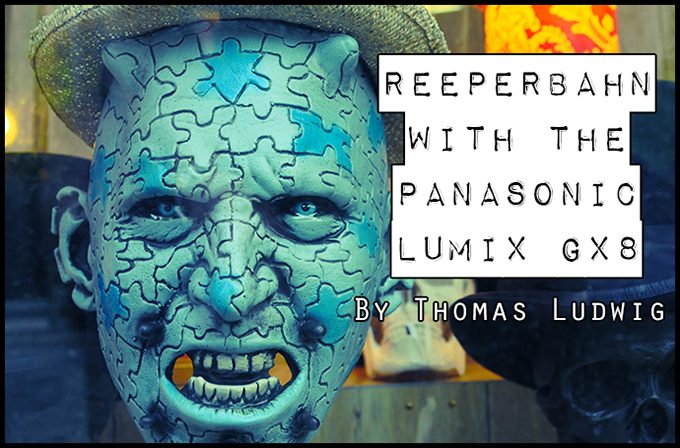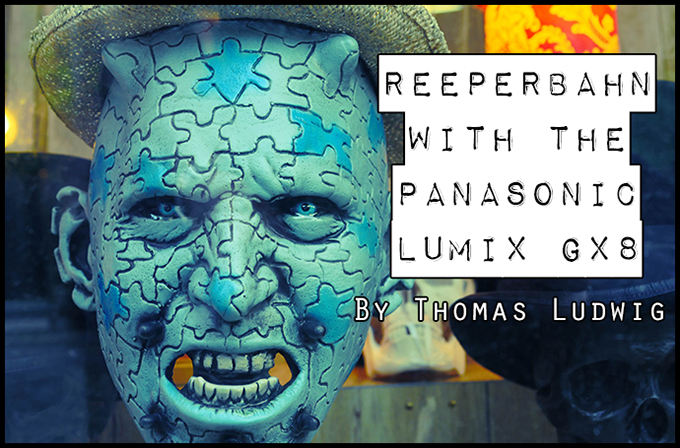 Reeperbahn with the Panasonic LUMIX GX8
By Thomas Ludwig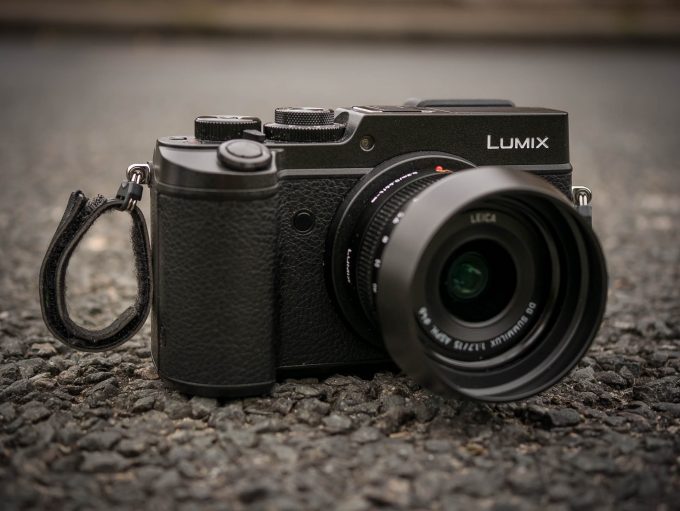 The Panasonic LUMIX GX8 has some impressive specs and comes along in a rangefinder style body. As it is not the smallest mirrorless camera and hence a bit more eye-catching, I was curious to see how it works in the streets. As usual I had my focus also on how it fits in a CAMSLINGER bag when hiking a city for a day.
Same as I did in my PEN F review some weeks ago, I used JPGs out of cam for most of the images in this review. I was at Reeperbahn in Hamburg/Germany, which is Hamburgs "entertainment district". So I decided to go for a Cross Process Filter which gives a colorful and oldstyle appearance to the images.
Not everyone wants to be seen in such a place, so I was working with slow shutter speeds to make everyone unrecognizable. On the other side I was asking some peeps for a portrait – but have a look yourself 🙂
Hey, what's up man!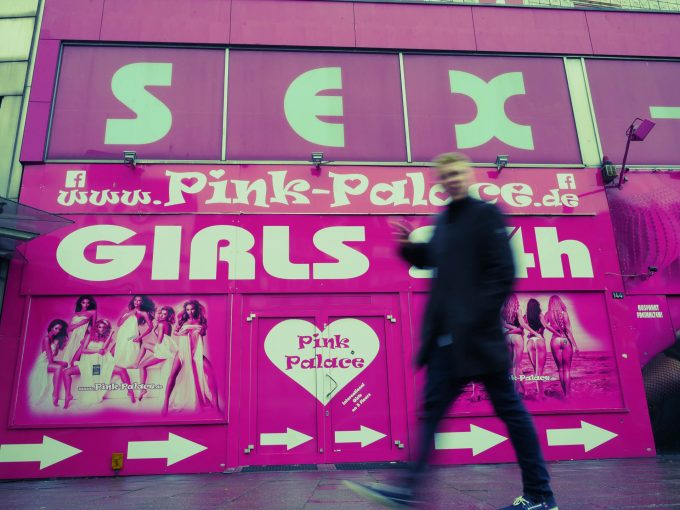 The LUMIX GX8 in the Streets
My personal choice for a camera for street photography is not related to a certain brand (even though I like the Olympus PEN F a lot) but to the body design. To me a rangefinder style body is much more unobstrusive than a DSLR or DSLR style mirrorless camera. So the GX8 should fit somehow into my preferences. But it is on the bigger site and I guess Panasonic had nature and studio use in mind. Attached with a Pana-Leica 100-400 or a 42.5 Nocticron, the GX8 would handle very well. In the streets however, it is slightly too big for my taste. At least that's what I thought when I started my review…
Besides the body design it is most important to me how a camera excels in image quality and focusing abilities. And so this review is mainly focused on these points.
To give you a short overview to my conclusion: The LUMIX GX8 is a brilliant camera. It's not only the huge line up of functions and features, but also how brilliant almost all of these features do work. It's a very reliable camera and perfectly suited to street photography!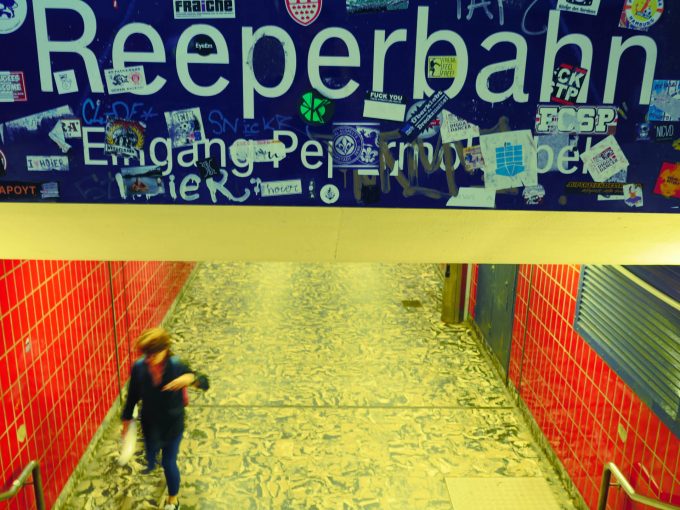 The Setup
Panasonic LUMIX GX8 | Pana-Leica 15mm/F1.7 | Pana-Leica 25mm/F1.4 | Lumix 42.5/F1.7 | Spare batteries | Cleaning towel | Raincover | Smartphone
All packed in a CAMSLINGER Streetomatic Blue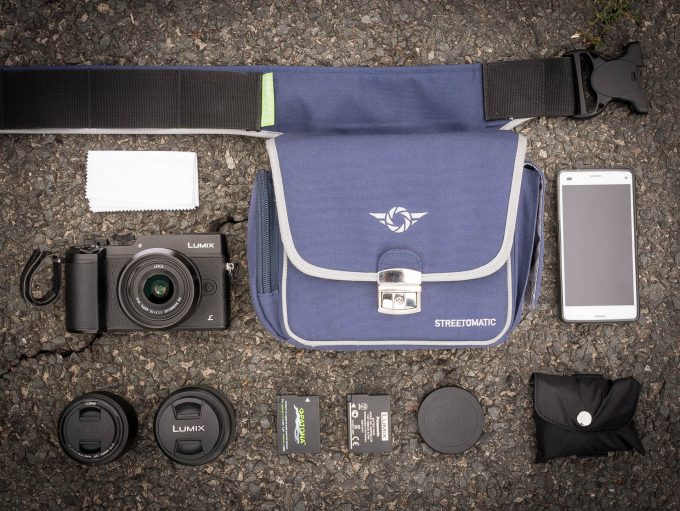 —-
JPGs OUT OF CAM ARE JUST AWESOME THESE DAYS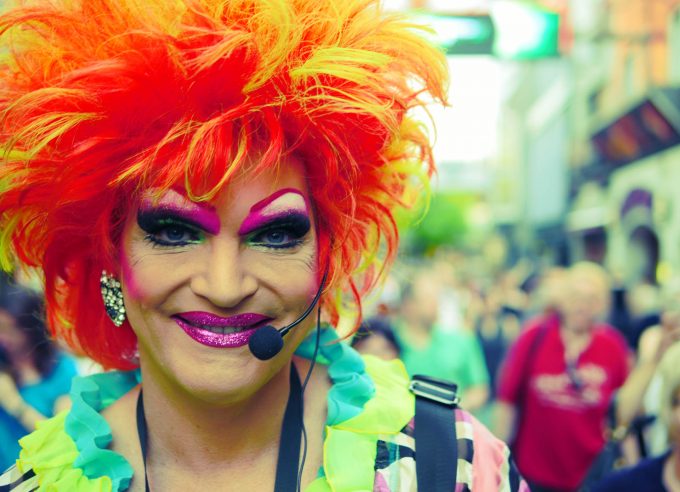 I used the Cross Process Filter which is one of 22 Filters the GX 8 offers. Using the WB button, you can adjust from cold to warm in four steps.
By the way this is "Ms Drag Queen 1997" Olivia Jones who was so kind to let me take a portrait 🙂
EYE DETECTION AUTO FOCUS WORKS EVEN AT A STICKER
Auto Focus of the LUMIX GX8 is simply stunning in all modes!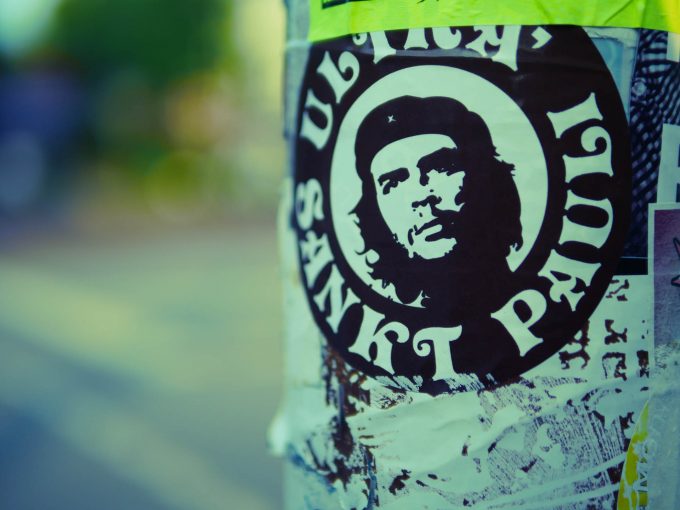 Image Quality
Many photographers tend to say the sensor of Micro 43 is too small. Honestly, I can't comprehend that. Up to ISO 3200 I do not have any problems with my style of photography and even DR is really good. And so I'm super happy with the 20 MP out of the GX8.
I remember very well the lousy colors of my first LUMIX, a GF1 back in 2010, which was far away from what I was used to from my NIKONs. But with the GX8 Panasonic did a great job and colors are superb.
The two next images were RAWs processed in Lightroom with only slight adjustments. While walking around at the port, which is just a stone's throw away from Reeperbahn, I met Thilo from Greenpeace Ship Arctic Sunrise. They were on the way to do some research about the Gulf Stream in the Atlantic. Had a nice chat with him and thanked him for the work they do…
–
AWESOME DETAILS AND TRUE TO LIFE COLORS
Thilo from the Arctic Sunrise shot with the Pana-Leica 25mm at F1.4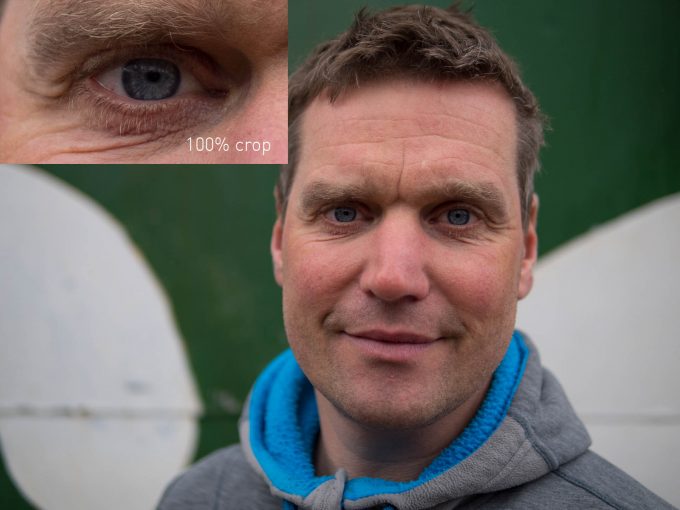 –
GREAT DYNAMIC RANGE ON A CLOUDY/SUNNY DAY
I just adjustet lights/shadows in Lightroom and used the brush to brighten up the guy in the green jacket… Overall a small fix made within a few seconds. The DR of the new sensor is really good!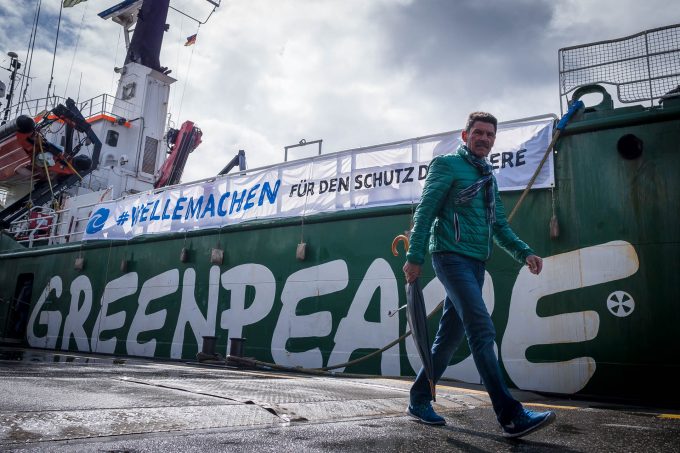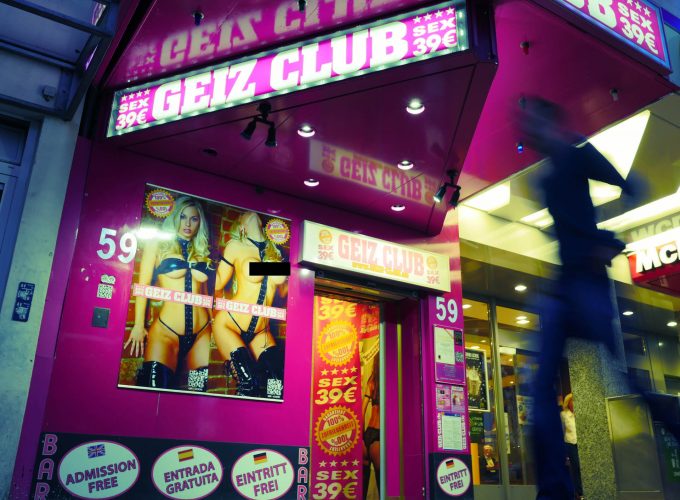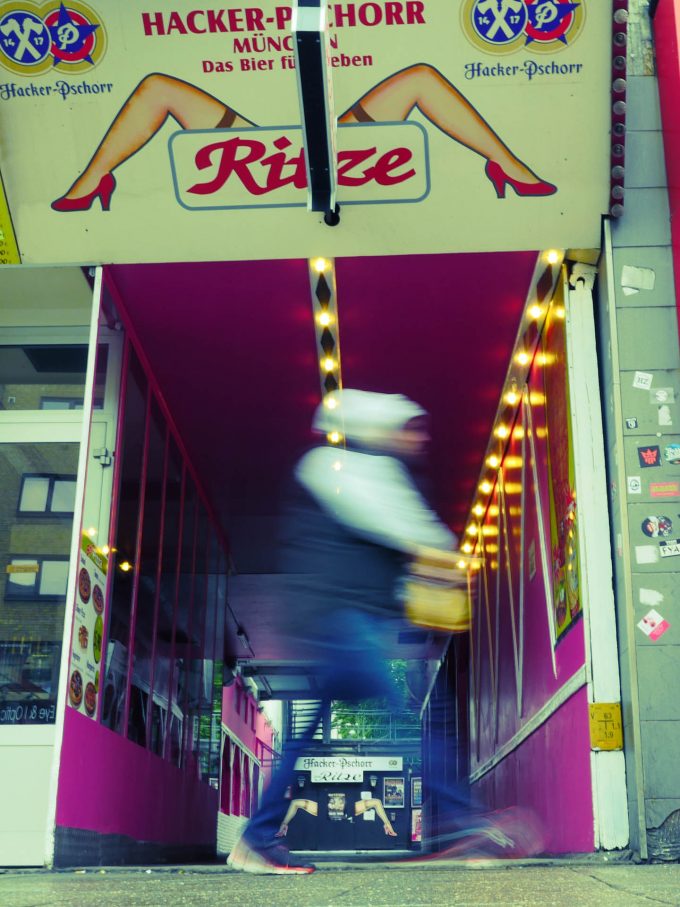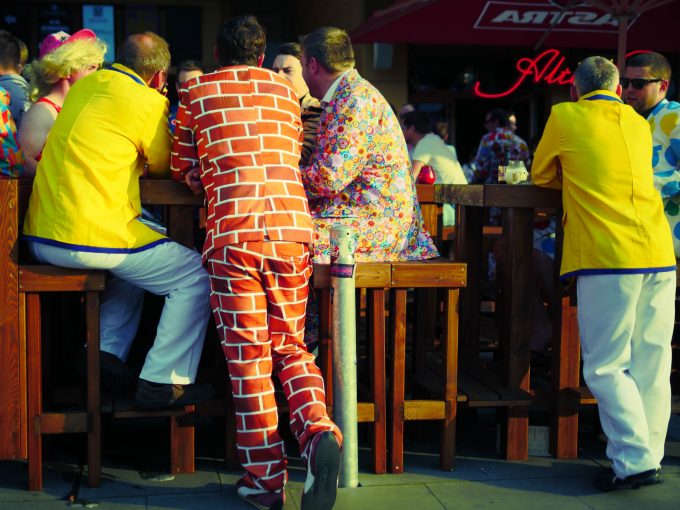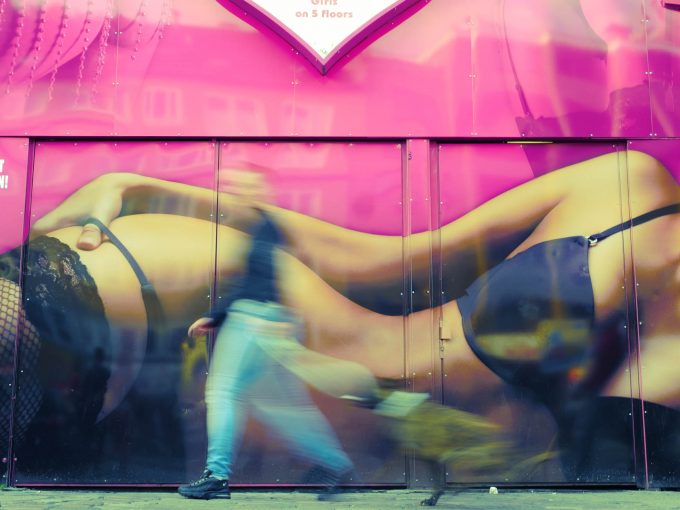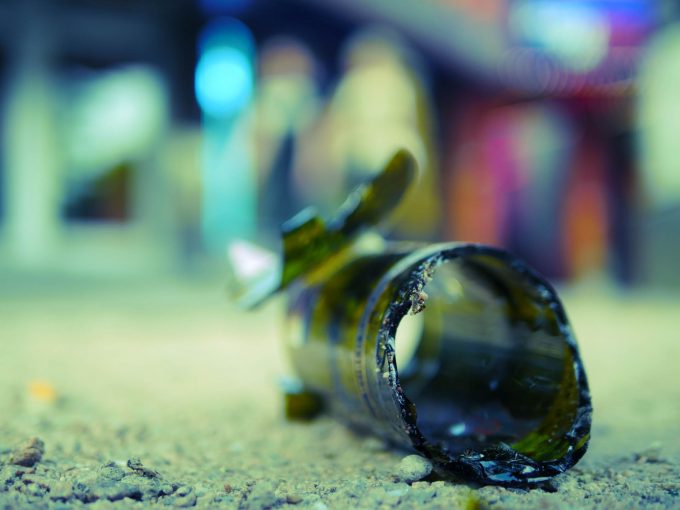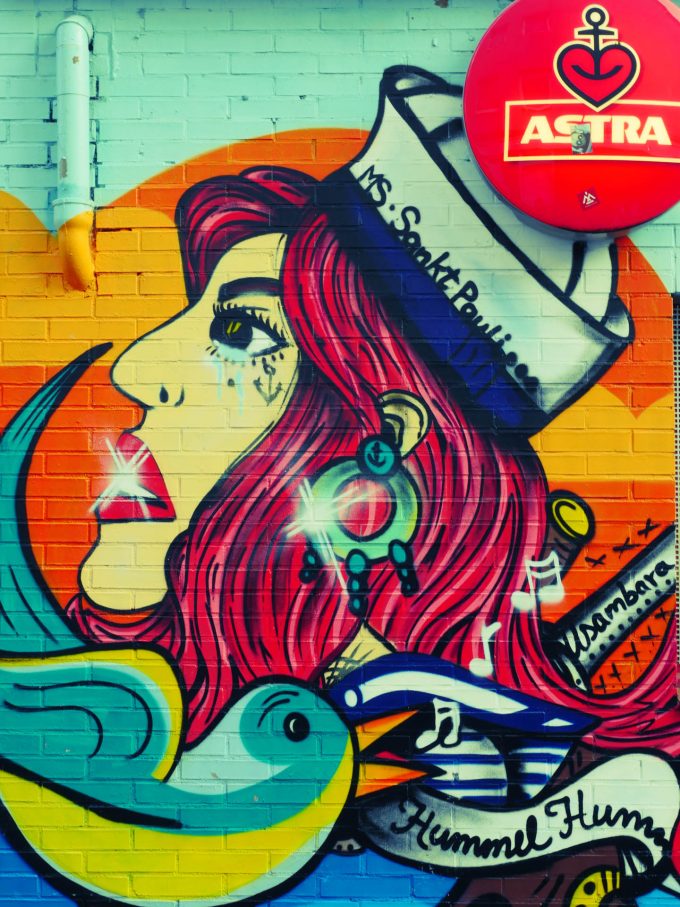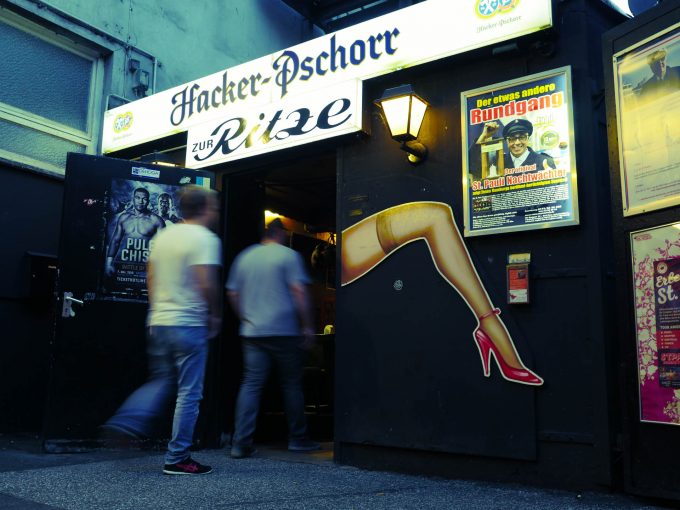 "If granny knew my job, she would be rotating in her grave!"
Eye Detection Autofocus focuses through glasses – how cool is that?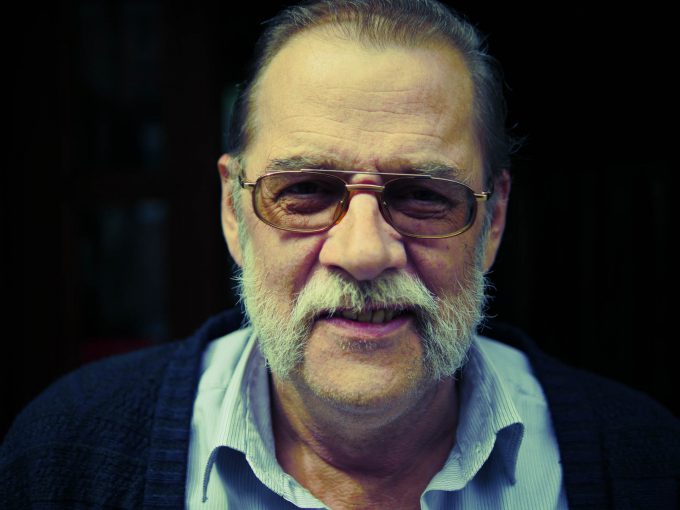 Handling etc.
The LUMIX GX8 handles very well, especially because of the nice grip. All dials and knobs are very good to reach and I was extremely happy to have a physical switch for AF mode. Only the SONY a6000 has a better handling in my opinion, but it misses some physical controls. The EVF is just awesome! Big, bright, quick – and the tilting feature comes in very handy.
This kind Lady is the ships photographer of the cruiser Qeen Mary "Two". She was strolling around in Hamburg while her ship was in the ship yard. She saw me reviewing images in the GX8s tilted EVF and thought I might have a prob with the cam. Had I nice chat with her, thanks to the tilting EVF 🙂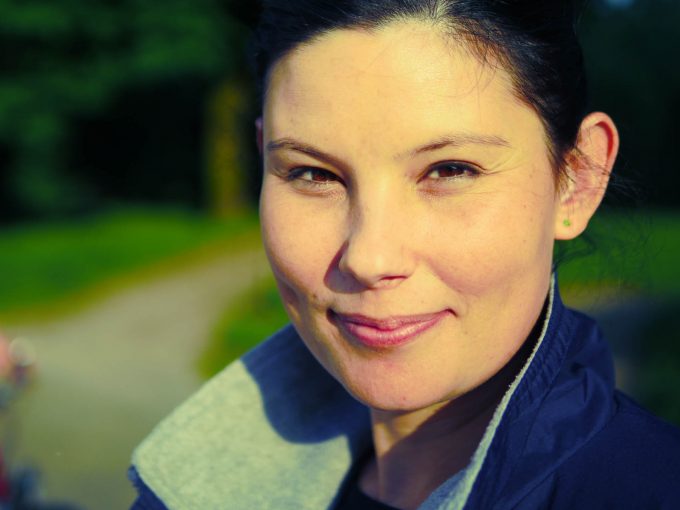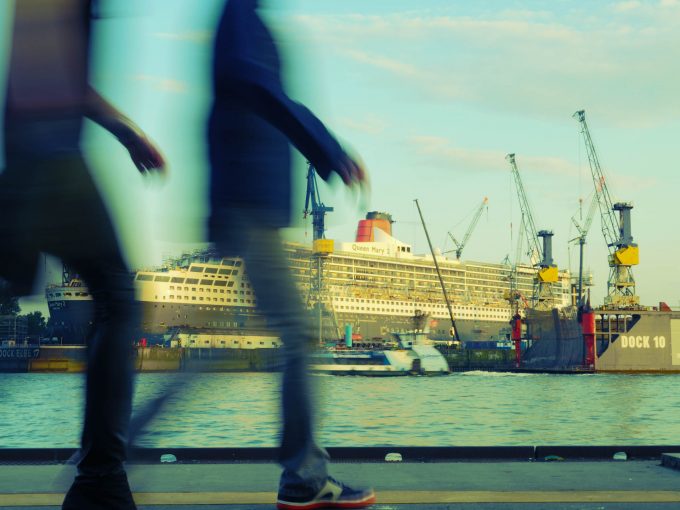 When I started my review, I thought the GX8 is a little bit too big. But this turned out to be like it is with a new record from your favorite band – you have to listen to some of the songs a few times to like them. And so it was with the GX8. After using it for while I liked the size VERY much! It just fitted perfectly in my realtively big hands and is still small enough to not beeing flashy.
Some reviewers don't like the design of the GX8 or at least say it's "nothing special". Not so me! Sure, the PEN F has that special aura, but let's have a look at the GX8. Panasonics design approach is much more modern and I have the feeling that one can clearly see LEICA has been the noble midwife when Panasonic entered the market. I can see Bauhaus elements and straight, clean lines. All buttons and dials are well placed and functionality is above average (and the menue system as well). To me it comes along as a brilliantly designed working tool and I really like and appreciate this approach. But taste is generally known as a personal and subjective thing 🙂
THE GX8 WITH A LEICA LENS – Simple, clean and modern design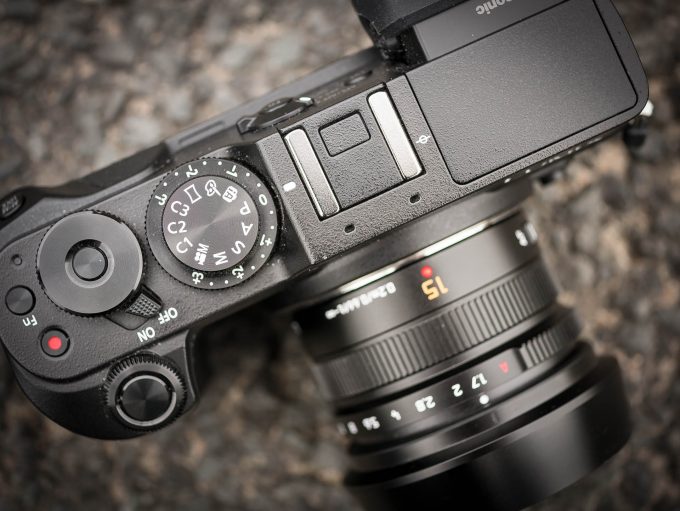 Focusing in the Streets
I'm using mostly three focus methods when in the streets:
#1 – Single point auto focus | #2 – Continuous auto focus with subject tracking | #3 – Hyperfocal focusing
At Reeperbahn (and in general) I was working most of the time with Single Point Auto Focus. And this is blazing fast and 100% accurate. Press the shutter and focusing and triggering happens in the same moment. Same when using the touch screen. Just tip on your subject and in the same moment – click – it's done! Even in dim conditions I had no complaints.
When taking portraits, Eye Detection Autofocus is a superb method. It even focuses through glasses!
I won't show images I made with Continuous Auto Focus with Subject Tracking, because all of them showed people in the nasty Reeperbahn area :-). However I tried this method and was amazed by the GX8s tracking abilities. It works 90% of the time – as long as there is enough light. As soon as it becomes dim, tracking was not that reliable anymore. For Hyperfocal Focusing the Pana-Leica lenses are not the first choice because of the missing distance scale. You'll find a scale on the screen when manual focusing but unfortunaley it does not show the distance. So here I'd like to praise Olympus and the 12mm/F2.0 and 17mm/F1.8 – they have a great distance scale!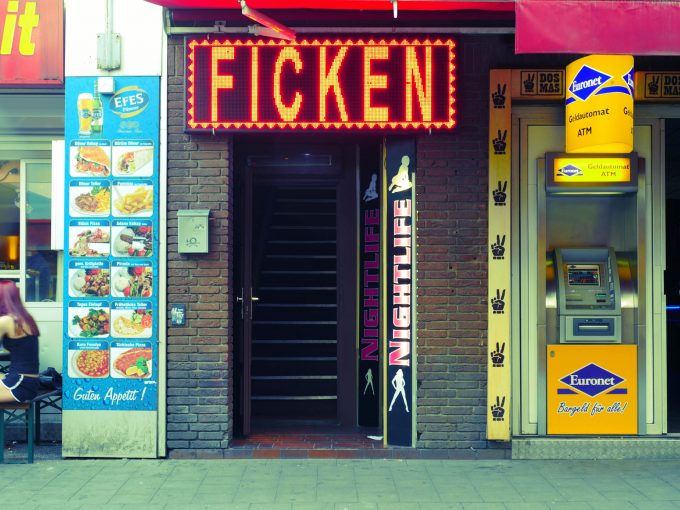 The GX8 in a CAMSLINGER Streetomatic
As the GX8 is a little bigger than the average rangefinder style mirrorless body, I chose a CAMSLINGER Streetomatic for my Setup. The Blue one fits very nicely to my jeans 🙂 I attached the FINGERCAMSTRAP and so I could grab the GX8 with one hand and at the same time fix it to my index against accidential dropping.
Carrying the LUMIX GX8 and gear in a CAMSLINGER at the hip, is extremely comfortable. As your upper body is free of belts and straps, your neck will never hurt. In fact it is almost as quick to grab your cam, as it would be with a sling strap – but the GX8 was always protected, when not in use.
GX8 and CAMSLINGER Streetomatic Blue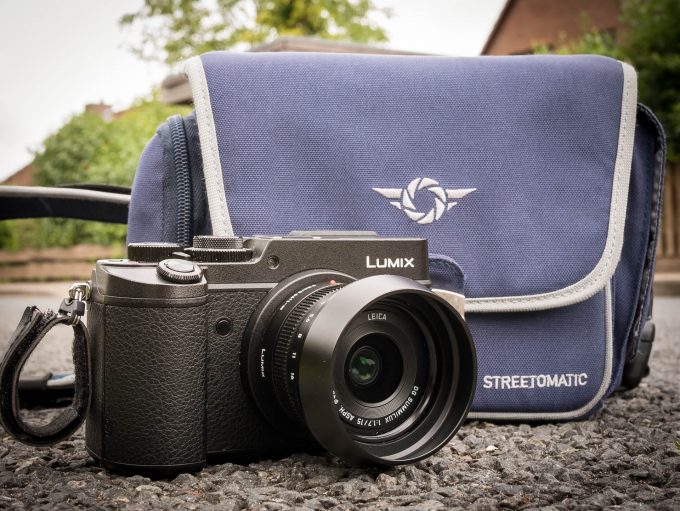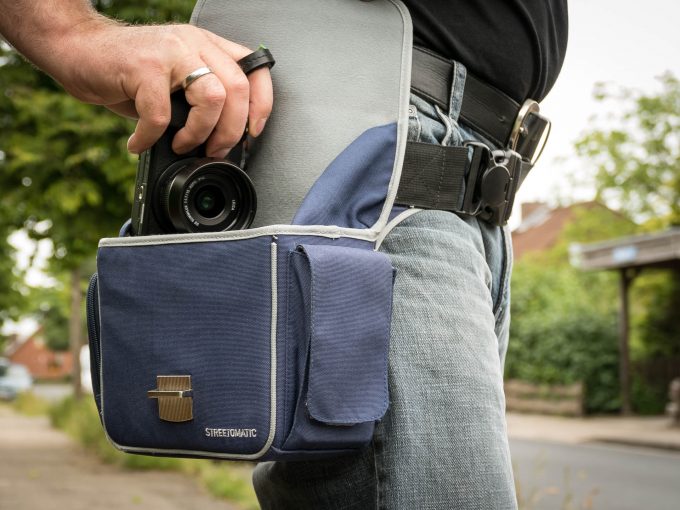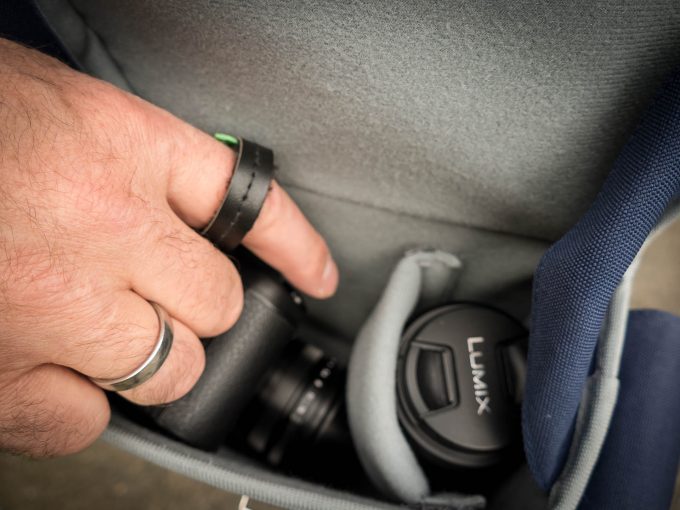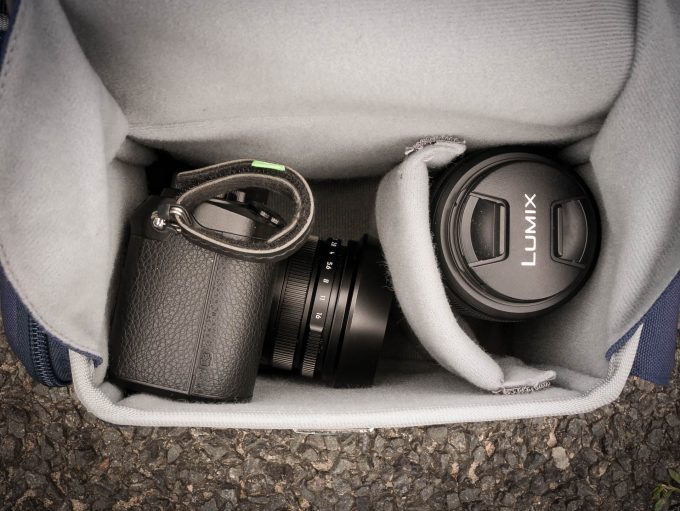 –
A VIDEO SHOWING THE GX8 IN THE CAMSLINGER STREET O MATIC
–
Conclusion
The LUMIX GX8 is a relatively perfect camera. It's feature set is stunning and more so the fact, that everything simply works as it should. From the view point of a street photographer this cam is a no brainer. Buy it and you'll be happy. It may not have this special appearence like a PEN F, but if you like a clean, modern, industrial design, the GX8 is a good choice for you.
JPGs out of cam are great even though it does not offer the crazy variations a PEN F delivers. RAW files are rich of detail and colors are superb. Thinking of video, which can be also a part of street photography, the GX8 is beneath the best choices available. I haven't tried the 4K photo mode, but will in my upcoming GX80/85 review.
The LUMIX GX8 is a work horse camera with many useful features and it works nearly perfect. On the street it is a reliable companion and no, it is not too big 🙂
P.S.: Imaging a full frame sensor in this body and a LEICA T mount. And then some nice lenses from Panny and of course Leica. You know what? THAT WOULD BE AWESOME!!!
SUBTITLE: The Devil at Reeperbahn