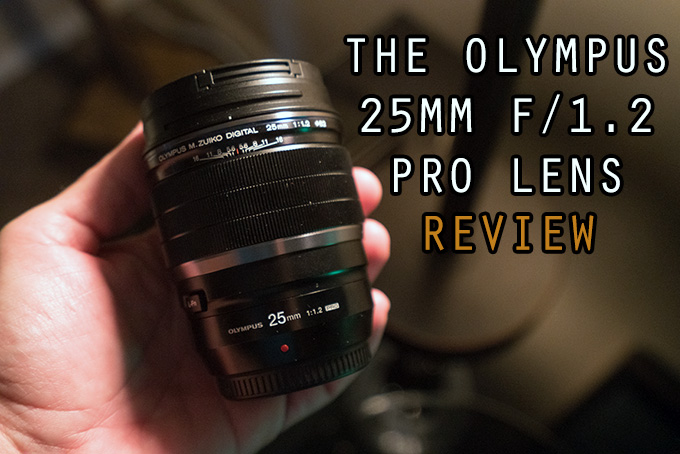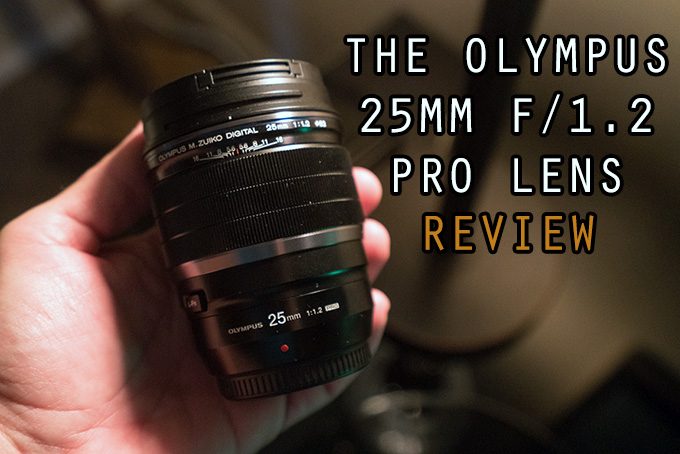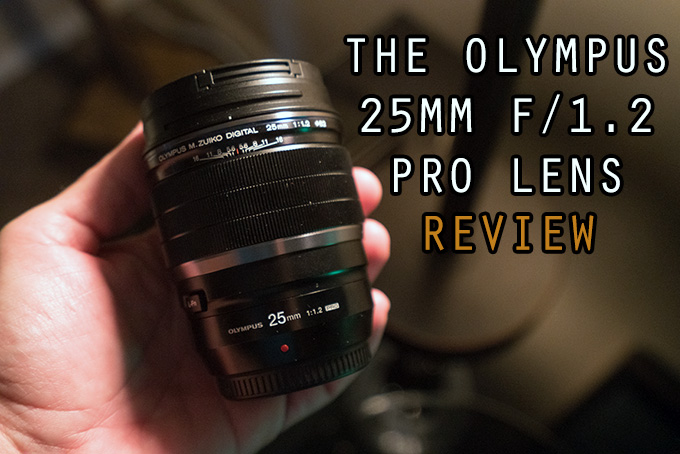 The No Comprise Olympus 25 f/1.2 Lens. My Review of Olympus's best fast prime.
By Steve Huff
NOTE: Click images in this review to see them how they were meant to be seen! The small versions you see below have the quality reduced so to see larger, click them!
ORDER: Order this lens at B&H Photo HERE. Or you can Also go with Amazon HERE. 
Wow, it's been an Olympus whirlwind these past two weeks. From the new E-M1 MKII review to the testing of the new 12-100 f/4 in Iceland  to this lens, the 25 f/1.2, we have been flooded with not only Olympus gear, but some of the best gear they have ever made in my opinion. When I heard the rumors long ago of the new f/1.2 Pro line of lenses (I think there will be one more to come) I was skeptical. How big would an f/1.2 lens have to be, especially when it is a 25mm which are hard to keep small while retaining super quality that is reserved for "Pro" lenses?
I've seen no color fringe, RAW or JPEG. I have seen amazing detail when wide open at f/1.2 and this lens features 19 lens elements in 14 groups for maximum quality. 

Olympus just did not want to release any old normal 25 f/1.2, and make it OK wide open, and usable by f/2…they wanted to make the best fast prime they know how to make. They already have the bargain of the century 25 f/1.8 lens which will also give a 50mm equiv field of view, but that lens, as good as it is for the money, is not going to deliver the goods, IQ, color, and Bokeh like this new f/1.2 can. This new 25 f/1.2 is a masterpiece, and I compare it to the big guns from Leica and Sony more so than any cheap "Nifty Fifty", which in no way can compete with this lens.
Understand, this is a statement lens from Olympus, to showcase the best they can do. It is not going to be small, it is not going to be cheap, but it is going to deliver some of the best IQ you will ever see with Micro 4/3. Wether you shoot with a Panasonic or Olympus, this is a lens you MUST try or rent or buy if you have been craving this look with Micro 4/3.
Closer in, wide open at f/1.2 and some Vignette added to really pull out the dogs face 😉 Click it to see it the right way!
The last time I was this excited about a fast prime for M 4/3, it was for the Nocticron by Panasonic/Leica. That lens offered an 85mm FOV with a fast f/1.2 light gathering aperture. That lens, and this lens now offer Micro 4/3 users the most shallow DOF they can get at this kind of detail level, period. No other lenses for this format delivers this speed of aperture with this performance. For the M 4/3 haters, you would never understand. But for Micro 4/3 lovers, this is a BIG DEAL. Also, the Nocticron IMO is not as good as this Olympus for all out Image Quality. WHAT?!?! Well, both are stupendously good but the Nocticron offers up a more "digital" feel while the Olympus, still digital of course, offers up a more organic style of rendering that reminds me more of something out of a Leica SL and 50 APO. Well, not quite but you get the point, lol.
This lens is indeed special for Micro 4/3 owners. Anyone who says this lens is not worth the cost either never used it or does not shoot Micro 4/3. Maybe they are the type to shoot  a lens like this at f/8, which defeats the purpose of the beautiful rendering and performance when wide open. I feel that this lens is made to be shot at any aperture though I would stick from f/1.2 to f/8 to avoid diffraction. In other words, for Micro 4/3 it is recommended to not shoot f/11, f/16, etc. But one would never need those apertures on Micro 4/3. This lens is razor sharp at f/1.2 or f/8.
My little dog Olive. A Brussels Griffon with gobs of attitude. f/1.2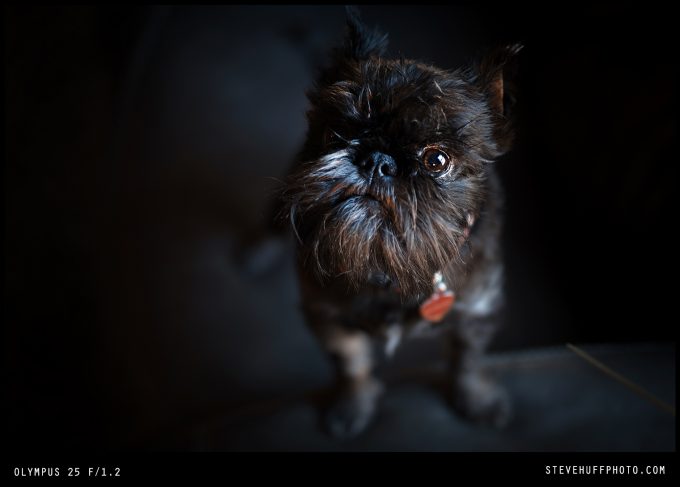 When I pre ordered this lens from Amazon when it was announced I kept wavering back and forth. $1200 is a lot of cash, and for a Micro 4/3 lens? With that money I could almost buy the amazing Sony 50 1.4, which is one of the best 50mm fast primes available today (review here). I could have purchased a new OMD EM1 MKI body. I could have purchased quite a few things instead of "another 50mm equivalent lens" for a system with a small sensor, and a system that is not known to offer tons of "Bokeh" or "Shallow Depth of Field" . But I preordered with the knowledge of knowing that if it sucked, or if it underperformed or if it was just another average 50mm (equiv) lens, I could send it back for a full refund. Amazon is amazing for this. Buy something that is broken, is awful or sucks, or doesn't live up to the hype? I can have a refund processed the same day I send it back. So I knew I had insurance. I would not be stuck with a lemon if it were to be one. But no way this lens is going back.
This 25 "captures all available light and renders your image in a way that is organic, rich in color and has just the right amount of contrast. Sharpness is off the charts or seems to be visually. When you have a sharp fast lens like this it truly makes your subject be the center of attention.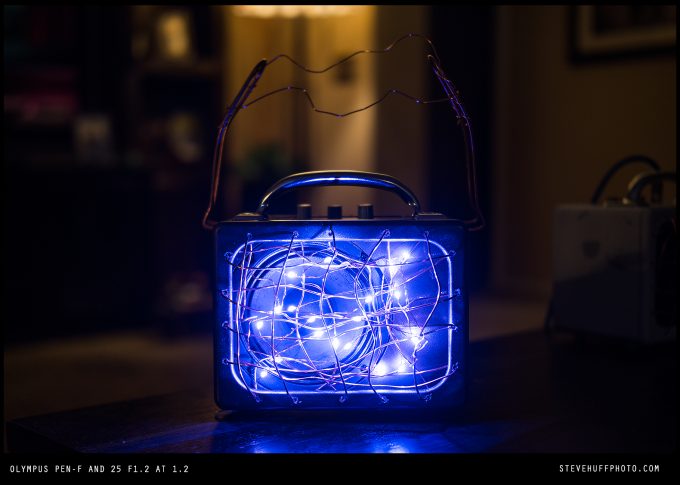 When the lens arrived about 2 days after I returned home from my Iceland trip where I evaluated the new EM1 II, I was surprised. I was not expecting it until 1st week of November but it made it by end of October. The box is larger, which when opened revealed a manual, a lens hood, lens pouch and the beauty itself, the lens..the 25 f/1.2!
I agree..this lens is a Bokeh KING

While large for M 4/3, and especially when compared to cheap 50's from Canon, Nikon or Sony or the cheap 25 f/1.8 by Olympus, it is still not large as most DSLR lenses. Shooting a 24 1.4 on Nikon will bring you a MUCH larger and heavier lens. Yep, I said a Nikon and a 24. This Olympus is physically and technically a 25mm lens. It is not a 50mm, so let's compare size to another 24-25 mm lenses for kicks, with AF, and with a fast aperture if we want to be fair about size. Since no other 25 f/1.2 exists, we can look at the Nikon 24 1.4 which is much larger, and more costly. We can look at the Canon 24 f/1.4 and again, larger, and more expensive. The point is, for what it is, the lens is still small, as it is a 25mm f/1.2 lens
Debby with the 25 f/1.2 at f/1.2, and with some PP. I altered the color here which is why there is a green-ish hue.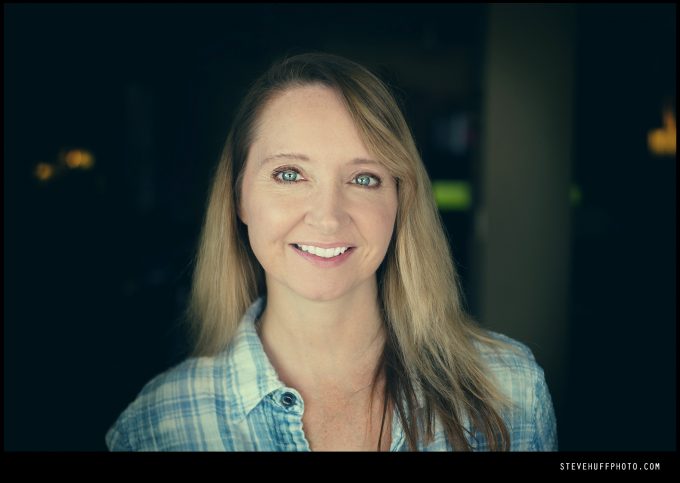 For size comparison only…
An APS-C Nikon D500 and Nikon 24 1./4 is quite a bit larger than the Olympus PEN-F and 25 f/1.2 I have here, and I would wager that the Olympus 25 is just as good if not better than the Nikon lens in detail wide open, and Bokeh quality. While we lose some DOF (though not much as the Nikon is APS-C)  this lens is stunning when used on the M 4/3 system. The Nikon will give you more of a 36mm FOV, the Oly a 50mm FOV but the lenses are both 24mm lenses (25 for the Oly) in construction.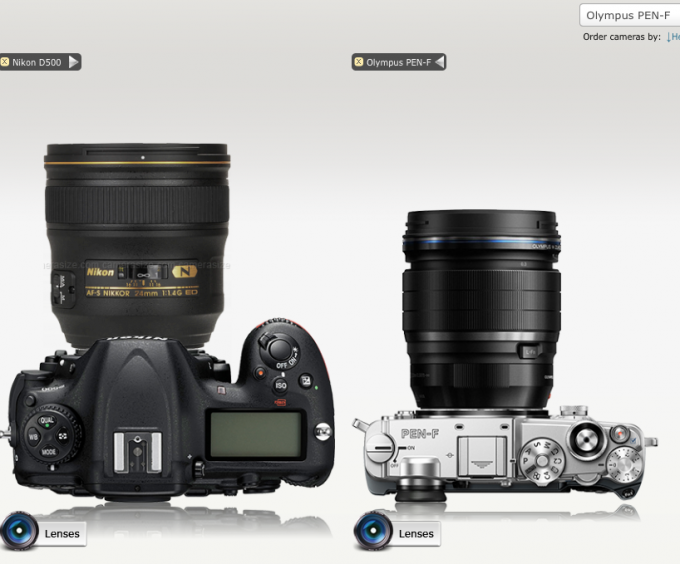 In regards to size… If you can sacrifice some contrast, micro contrast, bokeh quality, more shallow DOF, outright detail and overall vibe of the f/1.2, then the f/1.8 can be had for $850 less. So we have choice. Want cheap and small? Go for the f/1.8. Want the ultimate quality that Olympus can put out and the fastest aperture you can get with AF for this system, then this is the lens you want.
If you want to see what it looks like compared to a Canon 5DIV and 50 1.2, here you go. The body of the Oly is much smaller (and quicker to boot) and sharper at f/1.2. You will get less of that crazy shallow DOF of course when wide open, and your ultra low light/high ISO will be hindered with M 4/3 compared to the Canon but in this scenario, the body size is MUCH smaller yet the lens size is longer, and this is due to what I said above..the Olympus is a 25mm lens as advertised, not a 50. Wider angles are always larger, especially ultra high quality like what we have here with the 25 f/1.2. The Oly option below is also about half the cost as the Canon.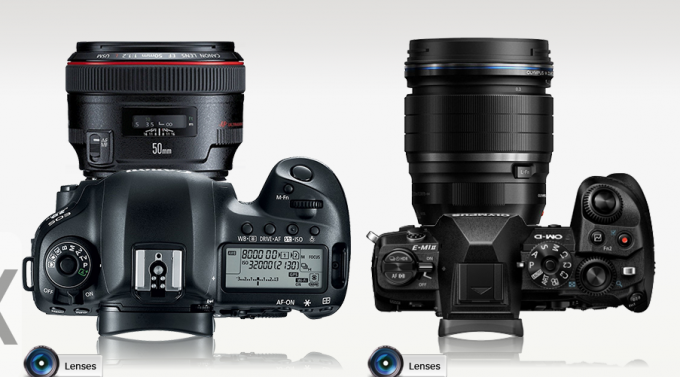 All comes down to needs and likes of the purchaser 😉 The Oly on the right is like a sleek sports car, fast, reliable, and fantastic performance. The Canon is more like a luxury sedan. Will be slower, larger… yet deliver the IQ goods like a luxury high end camera can. The Canon option is also 2X the cost as the Olympus option.
Here the lens was coated with water, fog and mist. Yet the shot still came out OK. 😉 It's a little foggy because the front lens element was also a little foggy!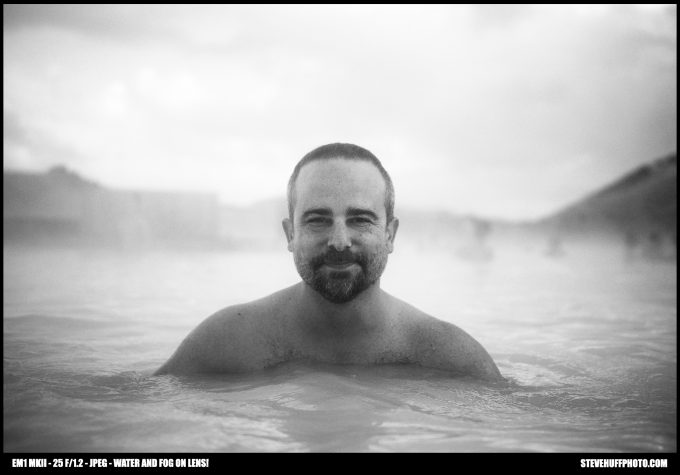 To those who bash the size and price of this lens when never trying it, well, they are not doing their homework, and I guess they really never appreciated a really really fine lens as there are more expensive equivalent lenses out there that cost more and probably do not perform to this level or at this level. I love to give credit when it is due, and Olympus deserves HUGE praise for this one.
Debby saying "Another picture..OK, only one more" – Lol. Truth be told she is awesome and always puts up with my picture taking without complaint 😉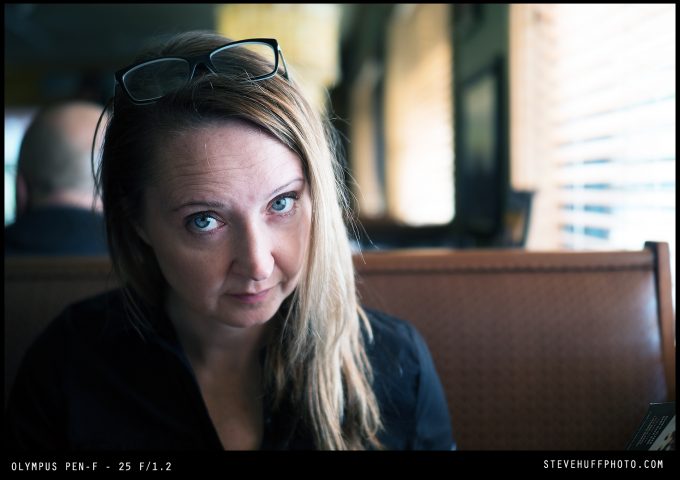 So you know I love this lens, but what about it makes it worth the $1200 price tag? I mean, one has to be really deep into Micro 4/3 to spend $1200 on a lens when the same focal length can be had, by the same manufacturer for $399 in a slightly slower aperture prime lens. So how is $800 worth going from f/1.2 to f/1.8? How is it worth going from a tiny small lens in the f/1.8 to the larger f/1.2?
The 25 f/1.2 is large for Micro 4/3. See the PEN-F with 25 f/1.2 next to a Sony A7RII and 55 1.8 Zeiss. The 55 1.8 Zeiss is a pretty small fast 50 though. If the new Sony 50 1.4 masterpiece was put in this lineup, these two would be dwarfed.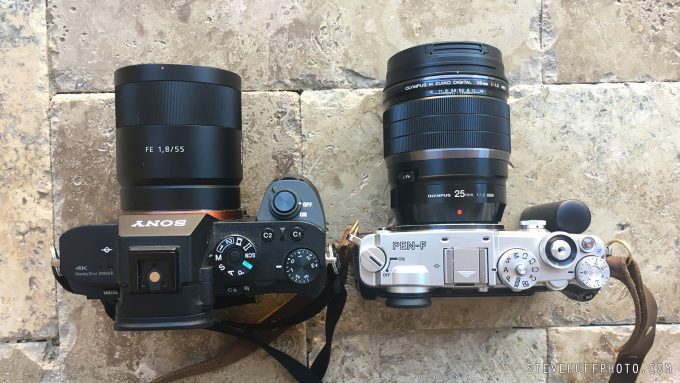 For me, and anyone who has been shooting with fast primes most of their life, this new lens is a welcome addition to the ever growing Olympus Zuiko lens lineup. If you own and shoot M 4/3 and have always had a love for the look a fast prime can bring you, then you will be thrilled with this lens. If you value micro contrast of pro lenses, color performance of pro lenses, speed of pro lenses and a Bokeh that may be the most beautiful I have seen yet then you owe it to your self to give this lens a go. It is not overly heavy, and while larger than the usual Micro 4/3 fare, it is because of what is packed inside.
Weatherproof, Quick AF, Whisper Quiet AF for Movies, and a Z Coating Nano to eliminate ghosting and flare. Wow. This is why this lens cost what it does.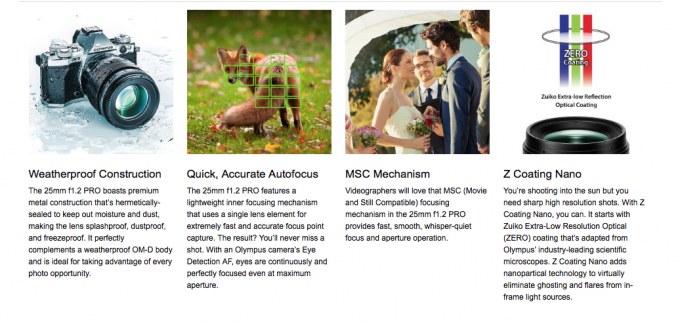 This lens even has the Olympus pro weather sealing, and it can focus close to about 10-11 inches. That's awesome. Paired with the new EM1 II, this lens can withstand any weather situation. Rain, snow, sleet or hail 😉
So the answer to why it would be worth the $800 investment over the 25 1.8 to some shooters who shoot with this system, ask yourself the following:
Do you value overall IQ over everything else?

Do you want or need weather sealing?

Do you want the ability to shoot full frame style shots in regards to Subject isolation and Bokeh?

Do you want the best in regards to detail and sharpness, even when at f/1.2?

Do you want a lens that will be the best for low light with your Micro 4/3 gear?

Do you want a lens that will focus fast and accurately?

Do you want to own the best overall fast Prime Olympus makes? (well, that is my opinion)

Do you want minimal CA and distortion?
If you answered YES to those questions I have no doubt you will LOVE this lens. I have been shooting it for two weeks now and truly have found no weakness. I can not even complain about the size or cost as the size, for me, is just fine. It is smaller than the 7-14 Pro I use all the time, and it is comfy to shoot even with the PEN-F and my JB Designs Grip. 
I have seen such minimal (if none at all) purple fringing, even when shooting RAW, which tells me this lens is well corrected and a pleasure to see since most fast lenses today suffer from some pretty bad CA in our digital world. Distortion? No barrel distortion here and I see a lack of wide angle distortions as well. Reminds me of good Leica wide angle lenses that have minimal distortions.
This lens renders quite a bit like the expensive exotic lenses I have tested in the past.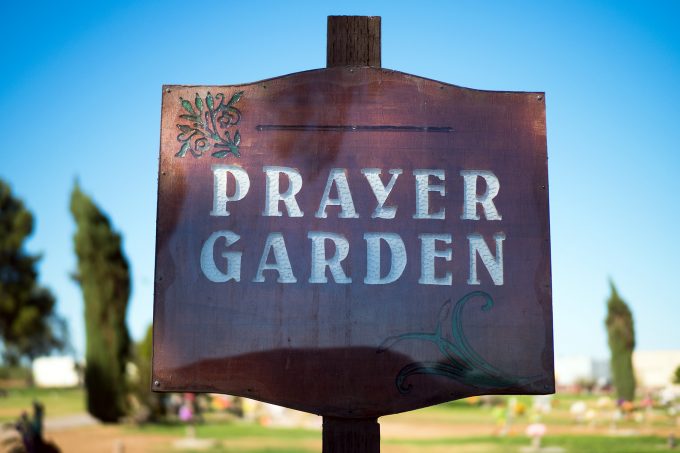 –
Monochrome mode #3 on the PEN-F (Tri-X Simulation)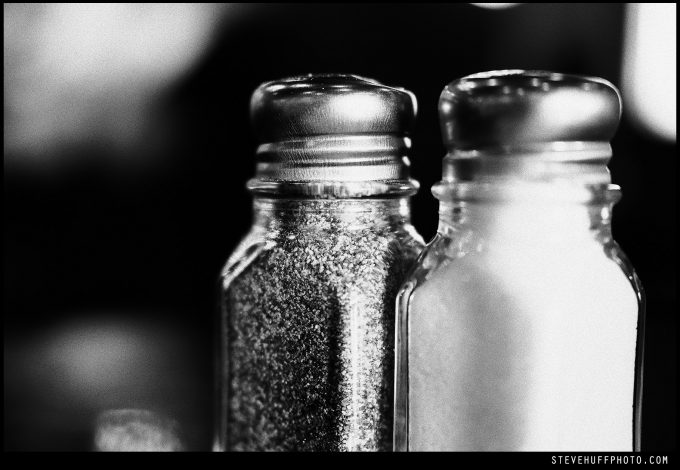 –
Wide open…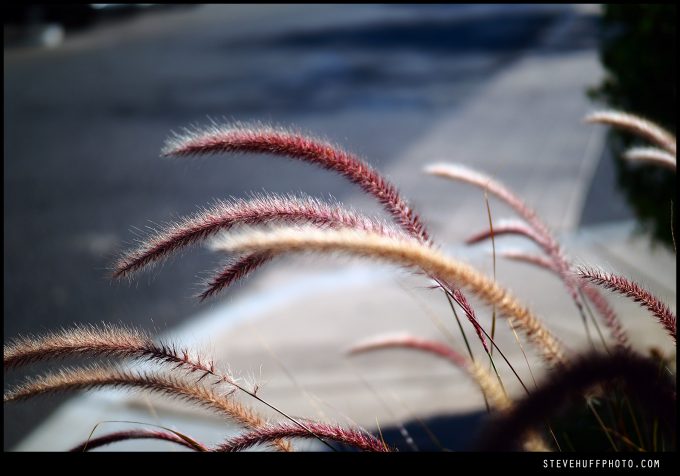 Let's see some details
So let's take a look at the details and sharpness of this lens. What I have found is this lens behaves much like a good Leica lens. Sharp wide open, almost MEANT to be shot at f/1.2, this lens will deliver detail and sharpness to your images no matter the aperture. This lens is making a serious case for Micro 4/3, and not because this lens does things other lenses do not do, but more of what the bodies do. Small, fast, fun to use, and in the case of the EM1 and EM1 MKII, you get so much for your dollars in regards to speed, response, weather sealing, pro features, etc. These cameras are just a joy to shoot as they do not hunt for AF, they do not lag..they are quick and with the line of lenses we have today, they perform in all aspects of IQ. I said when the original EM1 was launched that (at that time) I would have taken that camera over any APS-C model. I feel the same today. I just do not see much improvement TODAY in APS-C that I am seeing in Micro 4/3 (in regards to body design and speed and features). For example I'd be happier and more comfy shooting a PEN-F and this lens over a D500 and Nikon lens simply due to size, and what the PEN-F offers me and my style of shooting.
The fact is this lens with a good M 4/3 body will deliver on all aspects of what makes photography so enjoyable. Great Color, Smooth Bokeh, Nice Subject Separation, Sharp Details, Speed, and Reliability in any weather.
A few detail crop shots…click them to see the 100% crop and larger image! I see no faults with this lens.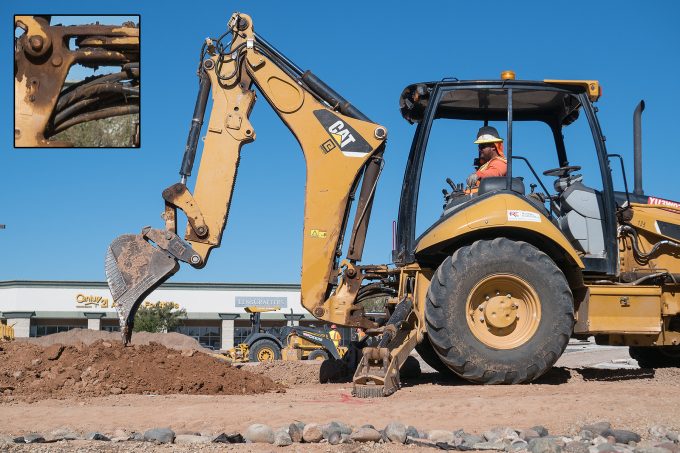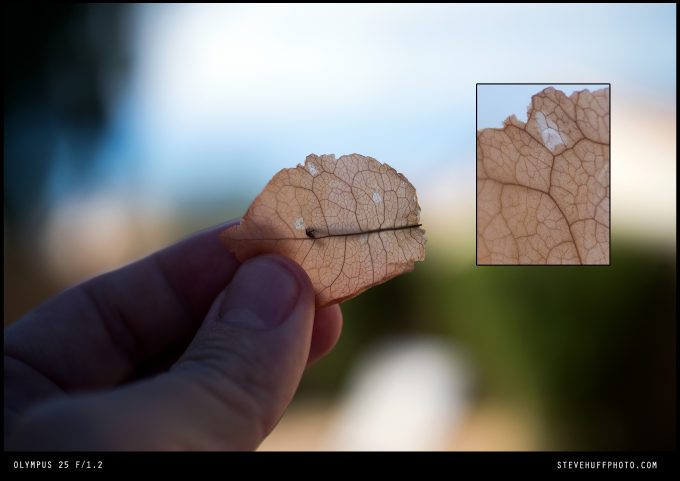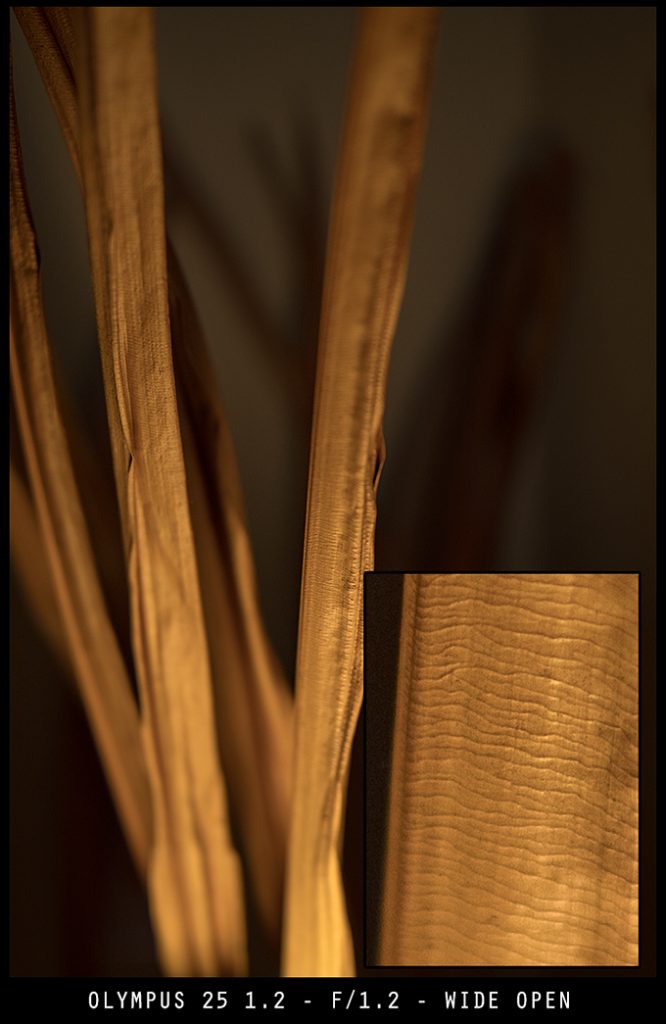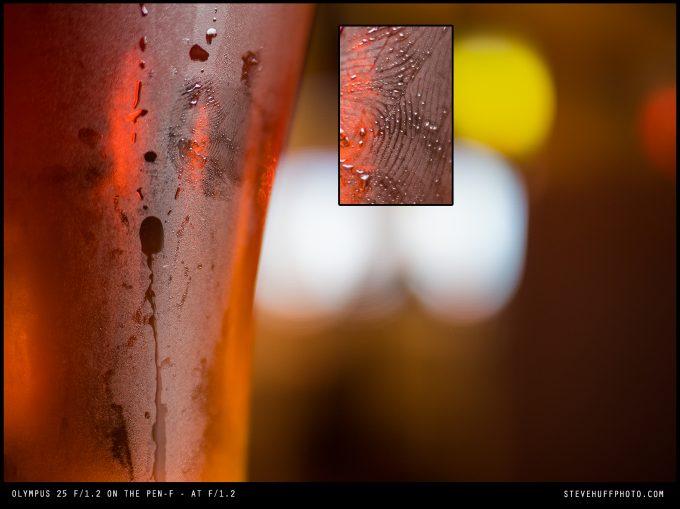 That fingerprint on a beer glass is amazing. When I shot the image I did not see the fingerprint. I was taking it as a Bokeh example at f/1.2, When I looked at the image I was impressed to see that detail when wide open! The fact is that this lens is a masterpiece from the way it renders an image to the detail capabilities it has on tap.
The MF Clutch, the Function button, and an 8 inch close focus distance. Use that 5 Axis with an Oly body and you have a lens you can hand hold for close to one second, at f/1.2 allowing you to keep ISO lower.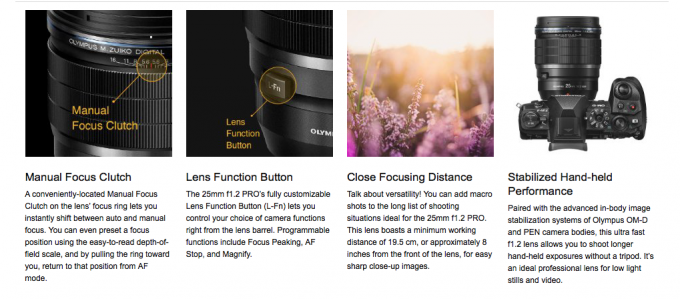 Just a few of the old reviews from previous Micro 4/3 lenses below:
Panasonic Noctocron 42.5 f/1.2
Bokeh at f/1.2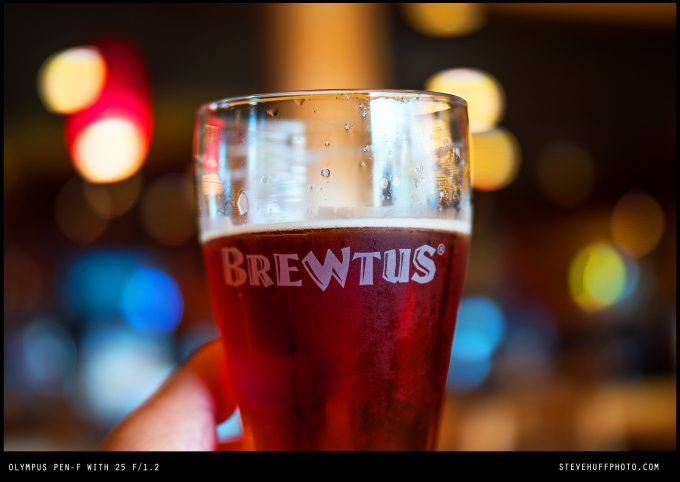 Low Light with this lens and an Olympus PEN-F?
While this lens and body combo will not deliver high ISO performance like a Canon 5D MK whatever or a Sony A7S series camera, you can get by up to ISO 10K if you shoot black and white 😉 This was a low light night time shot, inside my house. No light here, it was low light. I cranked the PEN-F to ISO 10,000, set the lens to f/1.2, set the camera to Mono mode 2, turned off the artificial noise that is added to that mode and fired the shot. This is the out of camera JPEG:
–
Low low light in my kitchen. Night time.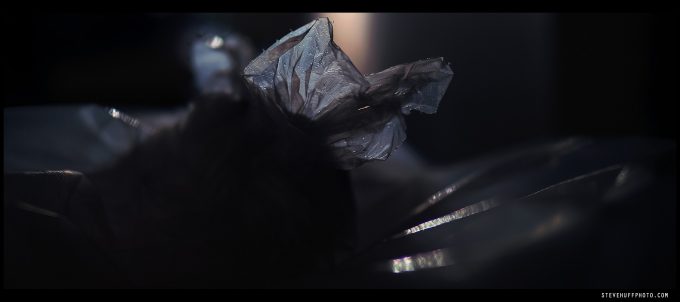 So this lens does open up some more low light opportunities. With the 25 f/1.8 I would have had to be higher than ISO 10,000 on the shot of my dog above. It also renders in such a gorgeous way.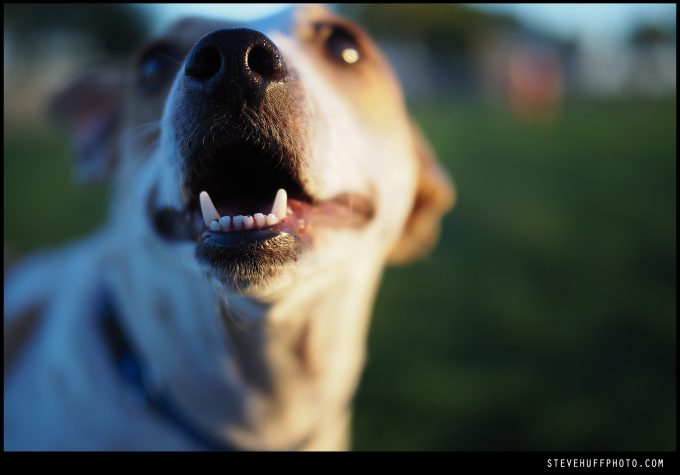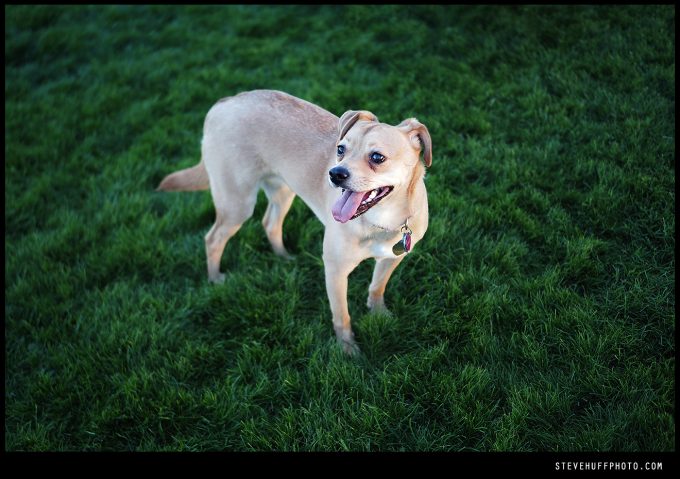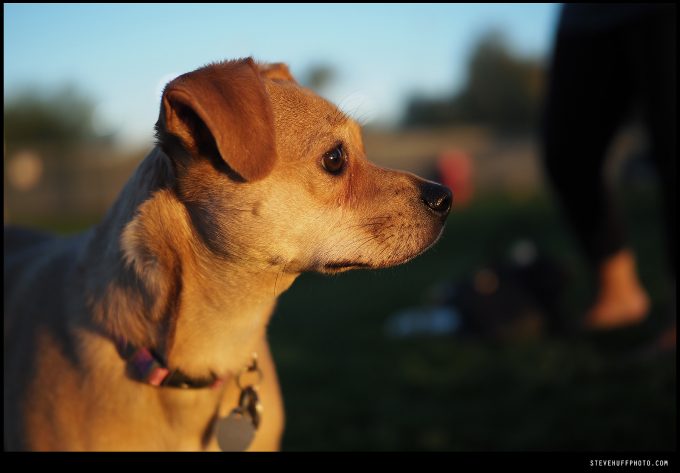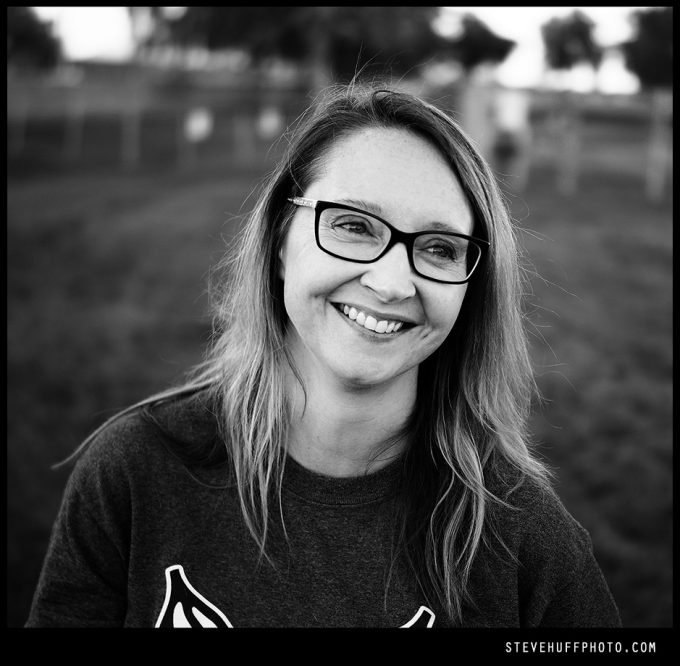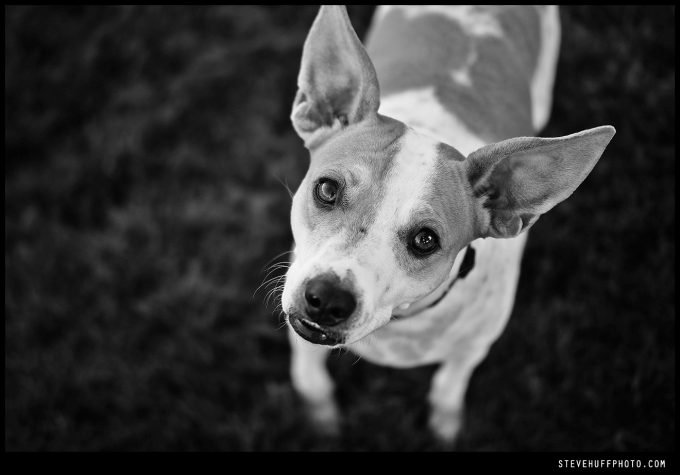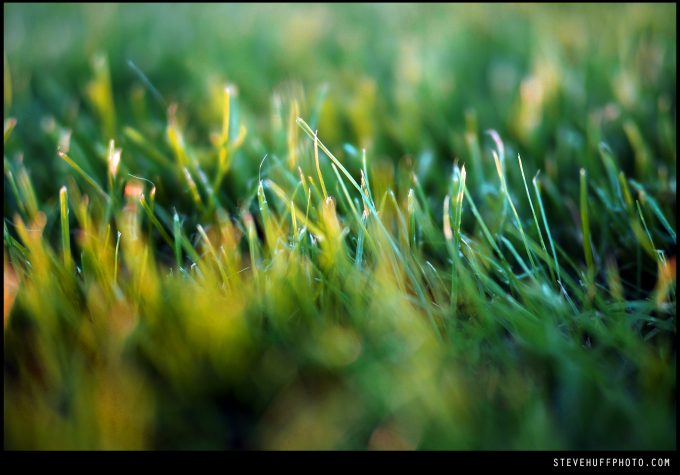 My Bottom Line on the Olympus 25 f/1.2 lens
So I have used them all, and know them all when it comes to Micro 4/3 lenses. This one is up there with the best Olympus makes, and is without question to me, the best fast prime lens Olympus makes. It has the AF speed that we will be happy with (though in the dark it will hunt a tad with a PEN-F body), it has a wide aperture allowing maximum light gathering, it offers the creamiest Bokeh I have seen in a long while, and it offers detail, even when wide open that helps to create the lovely rendering and 3D subject seperation that it does. If you are a fast lens junkie but maybe NOT a fan of busy, overly done Bokeh then this one may be up your alley. If you are not thrilled with fast lenses being hard to focus due to the shallow DOF, this one offers just enough but not quite enough to allow your images to be in focus. If you shoot Micro 4/3, then you owe it to yourself to give this lens a try. It has the manual focus clutch for an instant switch to manaul or auto focus, and it has a programmable function button as well, so you can assign it to focus peaking for example when you go manual.
Three using the 25 on the EM1 MKII, all OOC JPEG for these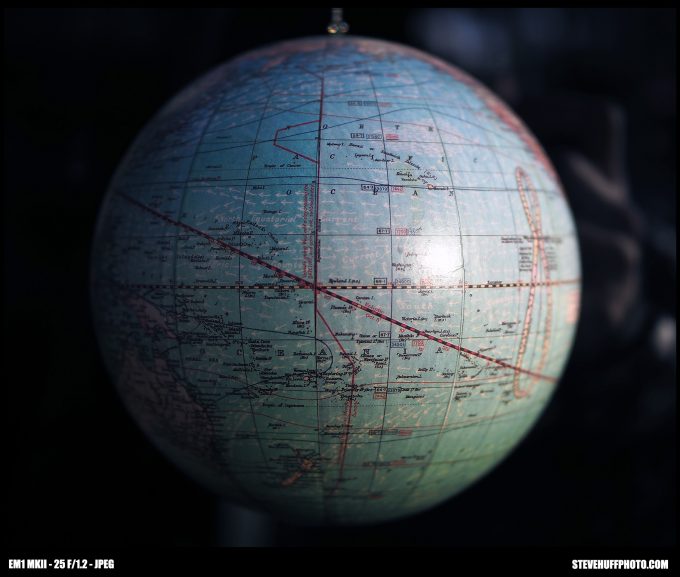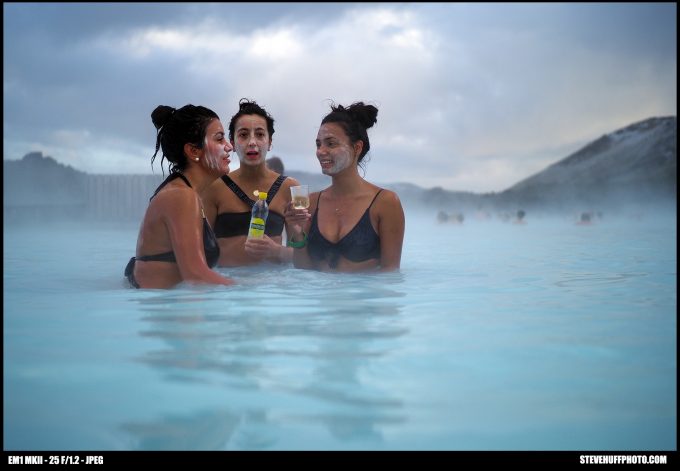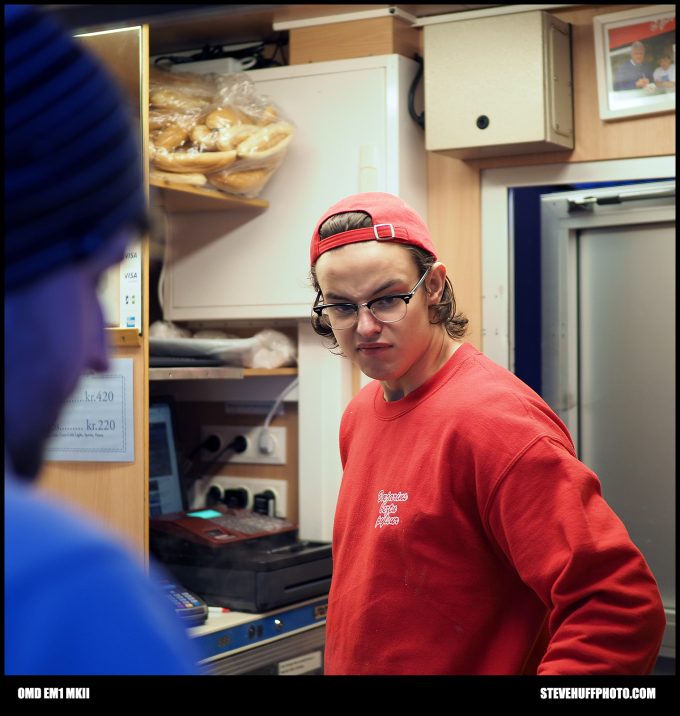 BTW, I NOW CALL THIS THE BOKEH KING LENS OF 2016 😉 It has the most pleasing Bokeh I have seen with anything in Micro 4/3 to date. Up there with the best Bokeh lenses ever for QUALITY and smoothness of Bokeh. It is never offensive or busy!
I usually get many wanting me to do comparisons with lens A, B, C or X but this lens is not really one we can compare to most cheap 50's. I did a side by side with my Sony full frame and 55 Zeiss HERE, and will do a couple more in the future. But Sony lenses do not work on an Olympus M 4/3 camera and vice versa, so the only lens this one should be compared to is the Olympus 25 1.8 and the Panasonic 25 1.4 when it comes to image quality.
I have owned and used both of those lenses extensively and will do a new post in 2-3 weeks comparing them all but for now, by memory and past images I have taken, this lens offers up better IQ, better contrast and color, micro contrast,  better build, weather sealing and fastest AF of all. It also gives us that f/1.2 aperture and the best Bokeh of the lot by far.
It's costly at $1200, it is larger than most M 4/3 lenses, and it is not going to make you a "no light shooter" with Micro 4/3 but it delivers on IQ. It's a true pro weather sealed lens as well. It does not get much better than this in the world of Micro 4/3. Put this lens in the hand of a wedding pro and I expect great things to happen. Actually, I think this is a HUGE welcome for Wedding Pros who shoot Micro 4/3 (and yes I know a few who do, and they are wonderful). It will give M 4/3 shooters an edge that they never quite had before when it comes to all out IQ.
A Snap of my Dog Baby, who truly is a big Baby.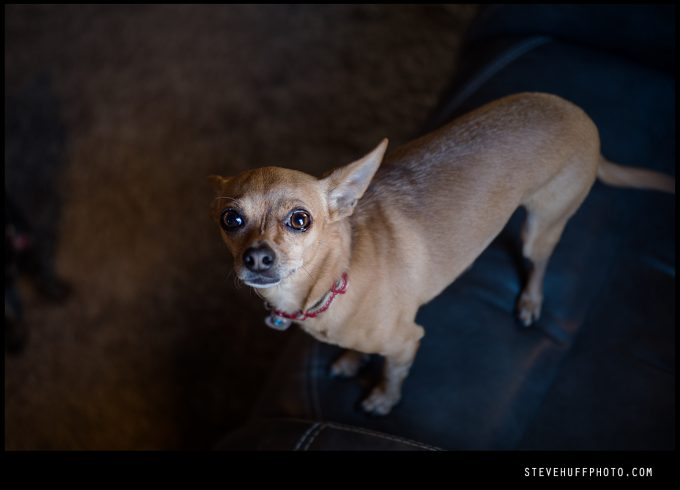 –
Debby this time with a smile 😉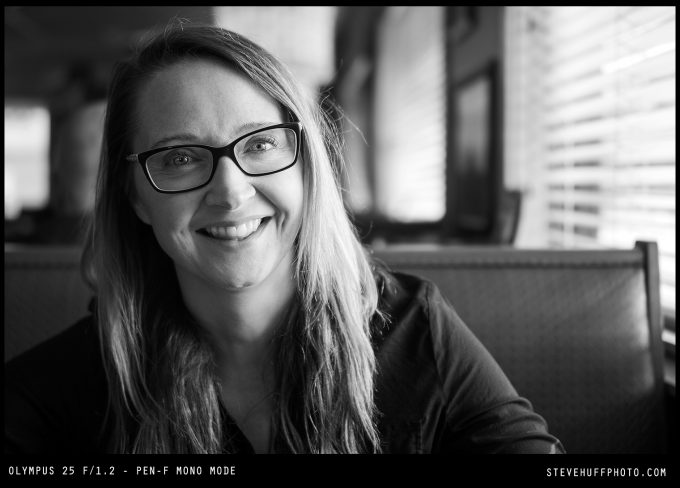 WHERE TO BUY?
If you want to buy this lens, the links are below from my top recommended Olympus dealers online. 
BUY THE OLYMPUS 25 F/1.2 AT B&H PHOTO
BUY THE OLYMPUS 25 f/1.2 AT AMAZON
Bold color from the PEN-F Chrome Mode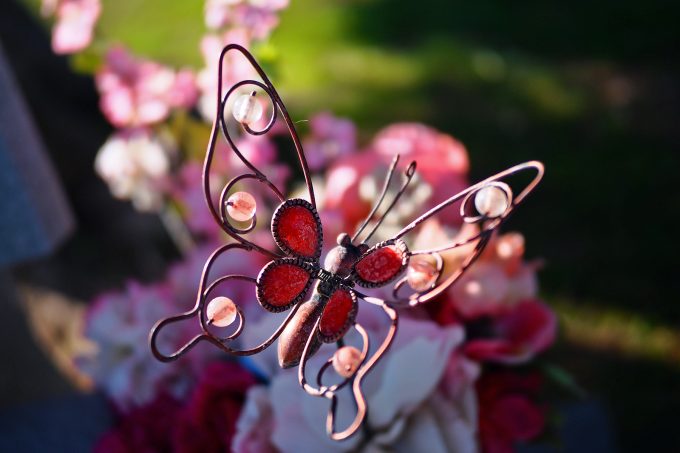 –
Nice Color and Tone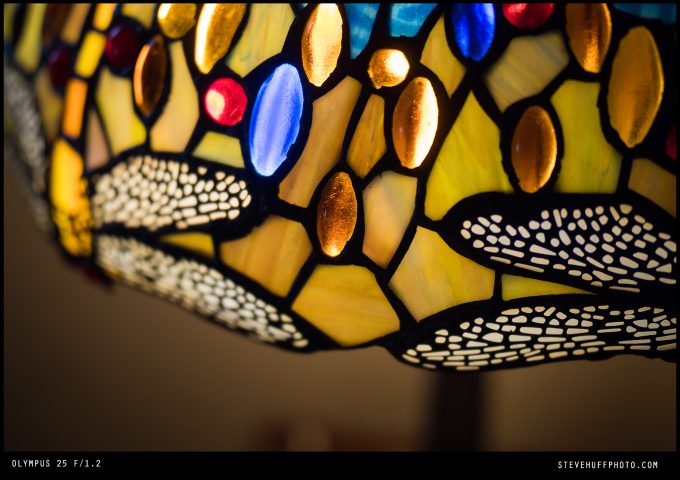 –
Bokeh that is smooth as silk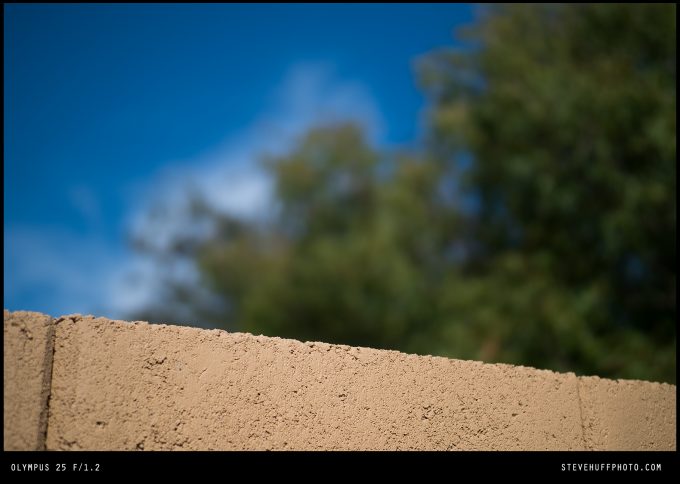 –
f/1.2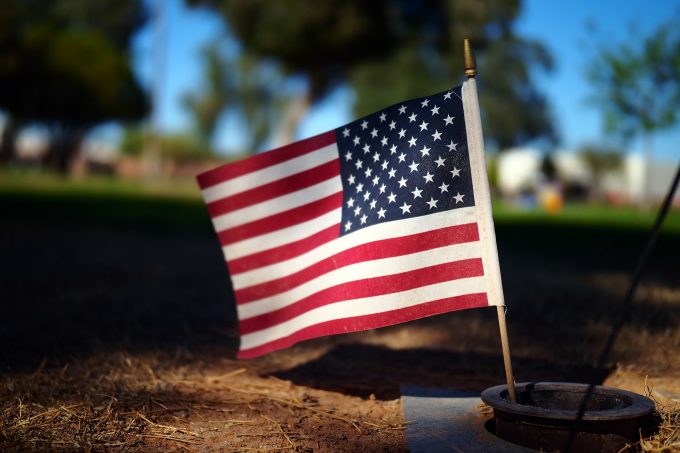 –
Bicycle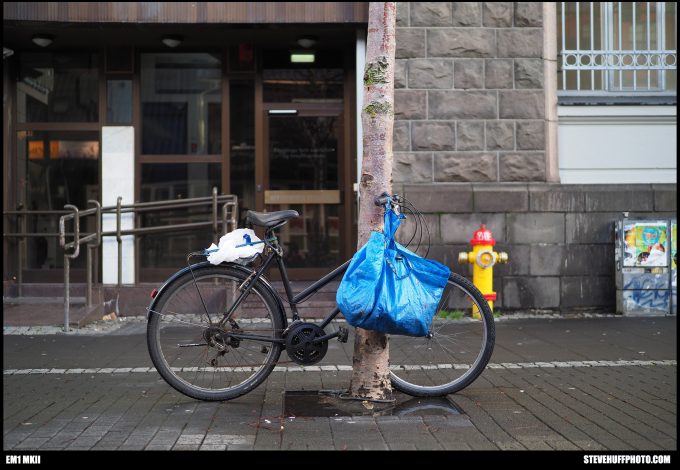 Wide open, 1.2  – focus on straw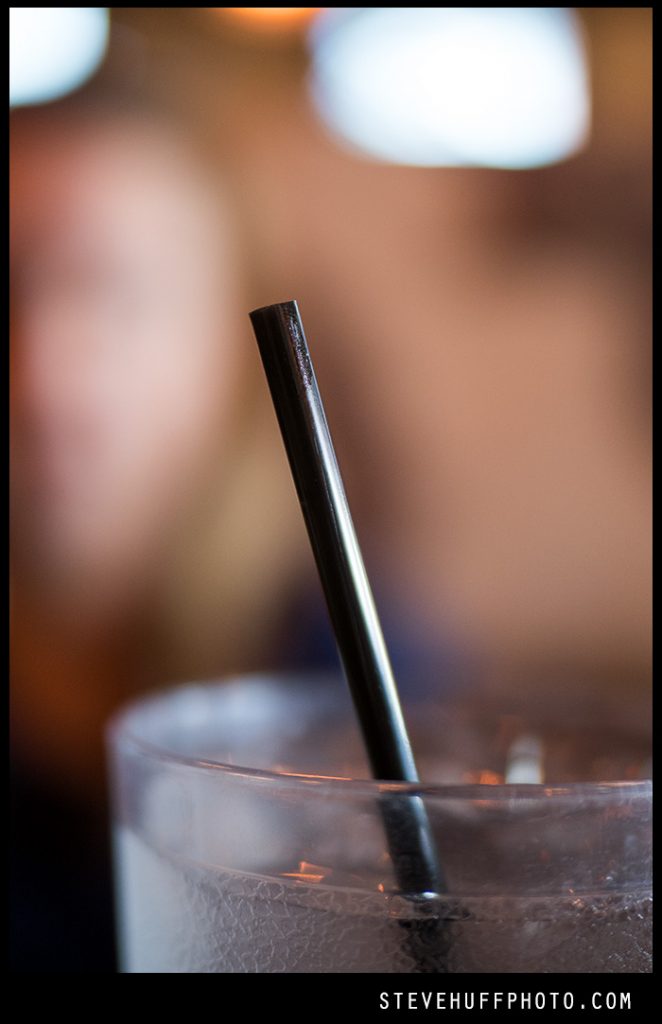 ---
PLEASE! I NEED YOUR HELP TO KEEP THIS WEBSITE RUNNING, IT IS SO EASY AND FREEE for you to HELP OUT!
Hello to all! For the past 8 years I have been running this website and it has grown to beyond my wildest dreams. Some days this very website has over 200,000 visitors and because of this I need and use superfast dedicated web servers to host the site. Running this site costs quite a bit of cash every single month and on top of that, I work full-time 60+ hours a week on it each and every single day of the week (I receive 100-300 emails a DAY). Because of this, I could use YOUR help to cover my costs for this free information that is provided on a daily basis. 
To help out it is simple, and no, I am not asking you for a penny!!
If you ever decide to make a purchase from B&H Photo or Amazon
, for ANYTHING, even diapers..you can help me without spending a penny to do so. If you use my links to make your purchase (when you click a link here and it takes you to B&H or Amazon, that is using my links as once there you can buy anything and I will get a teeny small credit) you will in turn be helping this site to keep on going and keep on growing.
Not only do I spend money on fast hosting but I also spend it on cameras to buy to review, lenses to review, bags to review, gas and travel, and a slew of other things. You would be amazed at what it costs me just to maintain this website, in money and time (250 hours a month, and about $3000 per month).
So all I ask is that if you find the free info on this website useful AND you ever need to make a purchase at B&H Photo or Amazon, just use the links below. You can even bookmark the Amazon link (not the B&H) and use it anytime you buy something. It costs you nothing extra but will provide me and this site with a dollar or two to keep on trucking along.
AMAZON LINK (you can bookmark this one)
B&H PHOTO LINK – (not bookmark able) Can also use my search bar on the right side or links within reviews, anytime.
Outside of the USA? Use my worldwide Amazon links HERE!
You can also follow me on Facebook, Twitter, or YouTube. 😉
One other way to help is by donation. If you want to donate to this site, any amount you choose, even $5, you can do so using the paypal link HERE and enter in your donation amount. All donations help to keep this site going and growing!
 I do not charge any member fees nor do I (nor will I ever) charge for reviews, so your donations go a long way to keeping this site loaded with useful content. If you choose to help out, I thank you from the bottom of my heart.