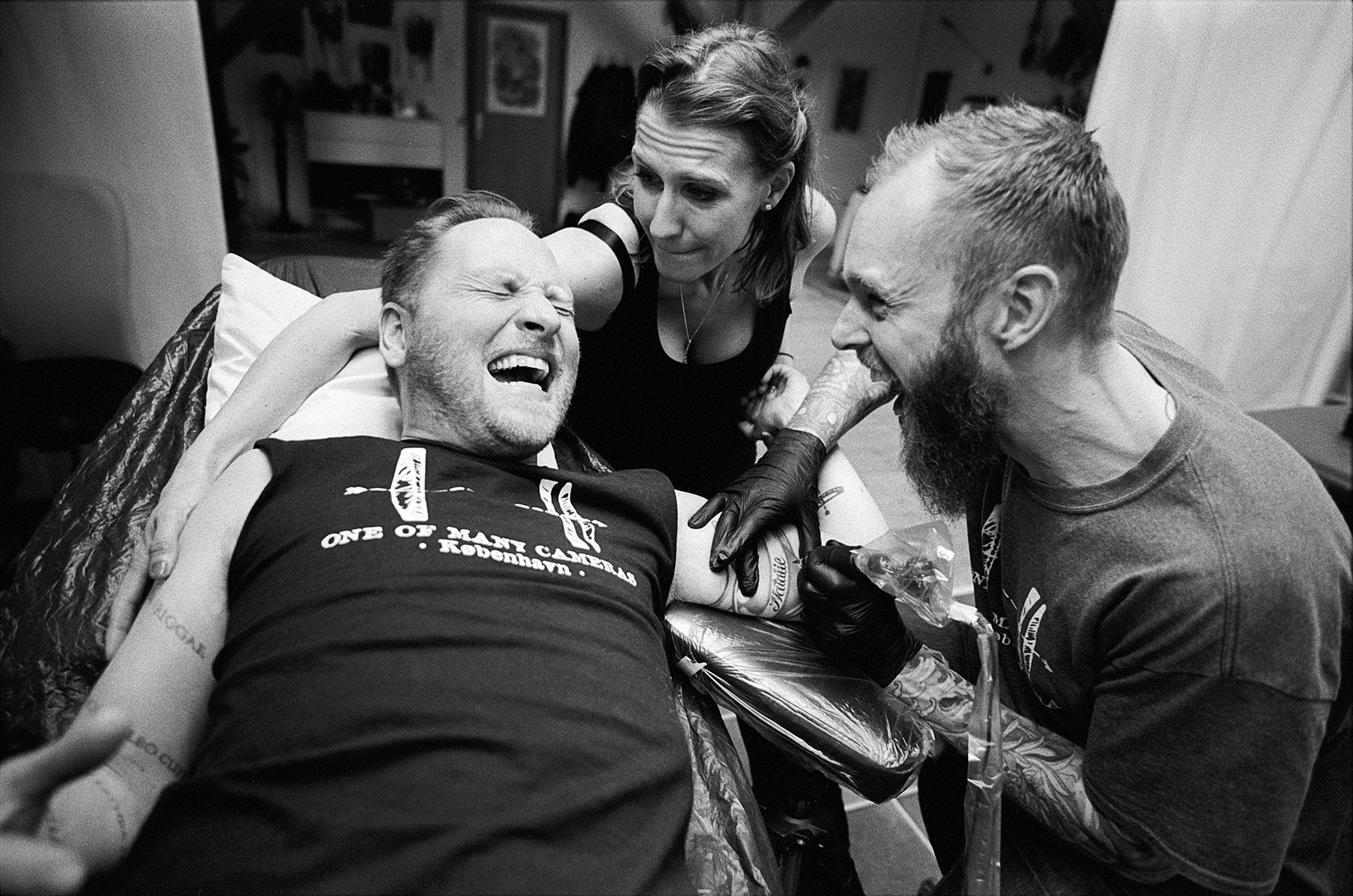 12 very different wedding portraits with 12 Different Cameras
by Bjarke Ahlstrand
One Of Many Cameras' (www.oneofmanycameras.com) Managing Dictator got married. Again. This time around he decided to ask Denmark's best photographers to interpret that special connection between the two star-crossed lovers reaching out to the beast with many names. The results were exhibited at Zeppelin, Copenhagen, on the wedding day, May 20, MMXVII on large prints. Here are the low resolution screen versions.
Bjarke & Natalie I  by Marko Rantanen – 70 x 88 cm – Toyo 810M 8×10" Field Camera + Voigtländer 240mm f3.5 Helomar + Fomapan 100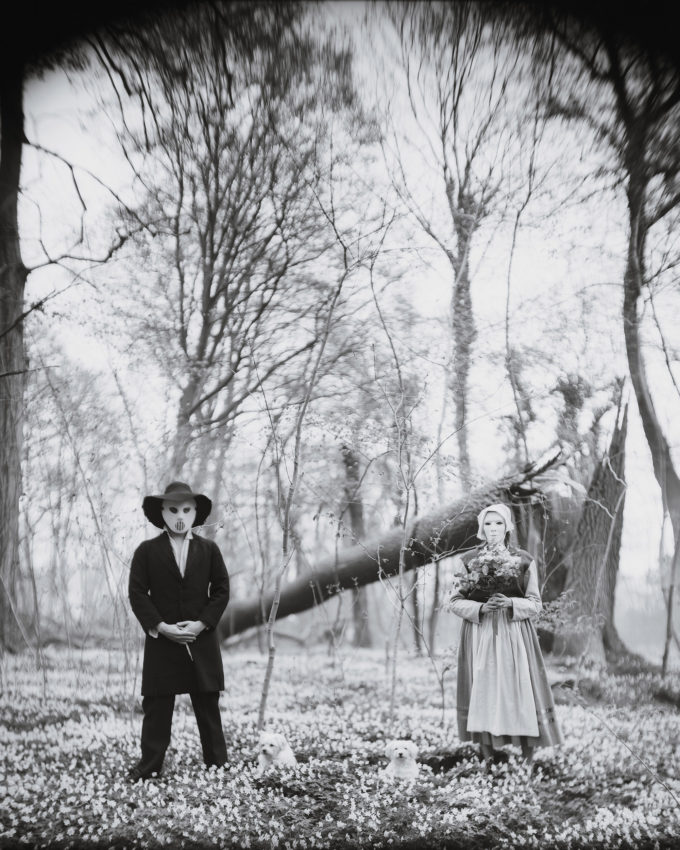 Marko Rantanen (b. 1973) is a Finnish-born artist, specializing in both commercial and artistic photography, and video productions. Marko is a regular at OOMC, and in fact the old 1940's large format lens used to capture this image, used to belong to Managing Dictator. The image was shot in Charlottenlund, north of Copenhagen, on an 8×10″ large format camera. Only two negatives were used in total. The dogs are called Victor and Lara. www.marko.fi
***
Bjarke & Natalie II by Ole Christiansen – 70 x 93 cm – Sony A7RII + Sony FE 24–70mm F2.8 GM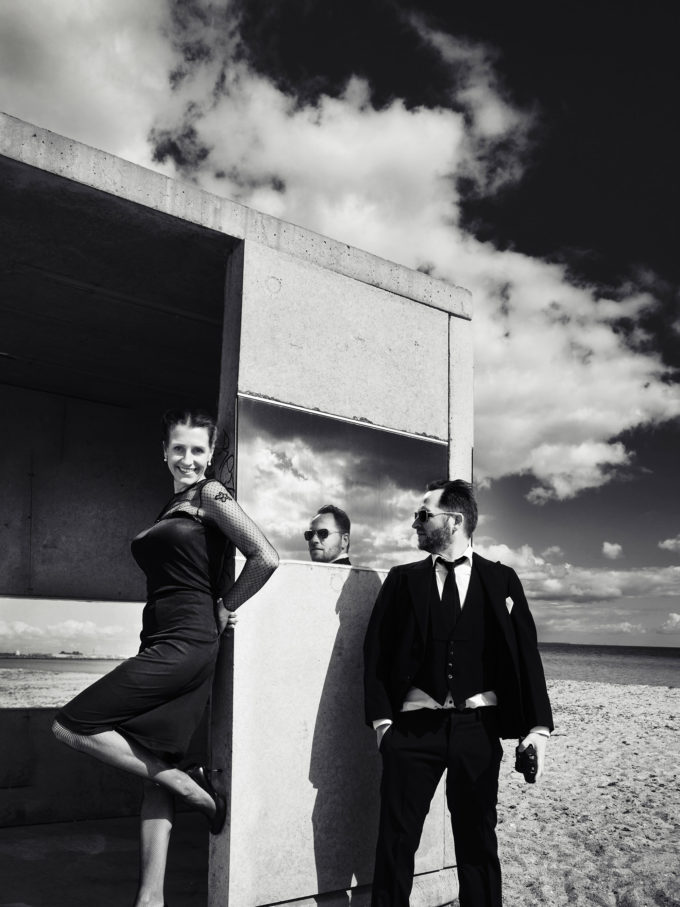 Ole Christiansen (b. 1955) is a master of aesthetics and one of the most important Danish photographers. Ole specializes in B&W photography and video, and swears never to shoot film again (even though he sometimes brings old Hasselblad negatives to OOMC to have them scanned). His massive "Photographs" book (People's Press) was published in 2005. He is currently working on a new publication and exhibition. The portrait was shot by the Arken Museum of Art in Ishøj.
 www.olechristiansen.dk
***
Bjarke & Natalie III by Christian Bang – 70 x 70 cm – Hasselblad 503CW + Zeiss 50mm f4 Distagon T* + PhaseOne P45+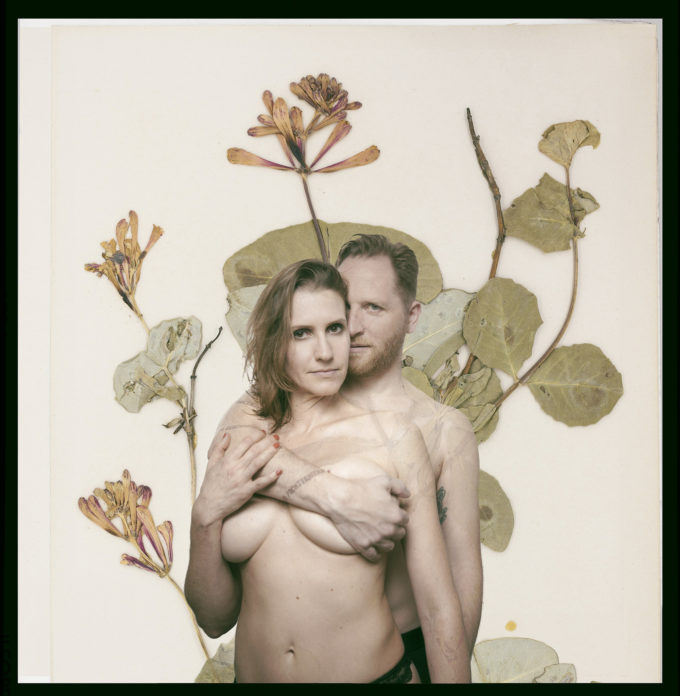 Christian Bang (b. 1980) studied at Rambert School of Ballet and Comtemporary Dance before he decided to become a photographer. He has a unique eye for composition which can be seen his many editiorial fashion shoots, music videos and portrait photography. Christian loves to match vintage lenses with high-end digital equipment. For this shoot, a 1 second exposure, Christian chose to match Hasselblad/Zeiss with a scan of a preserved specimen of Lonicera sempevirens (honeysuckle), collected in 1915, and still preserved in the herbarium at the New York Botanical Gardens (the bride is a botanist). www.christianbang.com
***
Bjarke & Natalie IV by Kim Wendt – 70 x 96 cmHasselblad H3D–31 + Hasselblad HC 35mm f3.5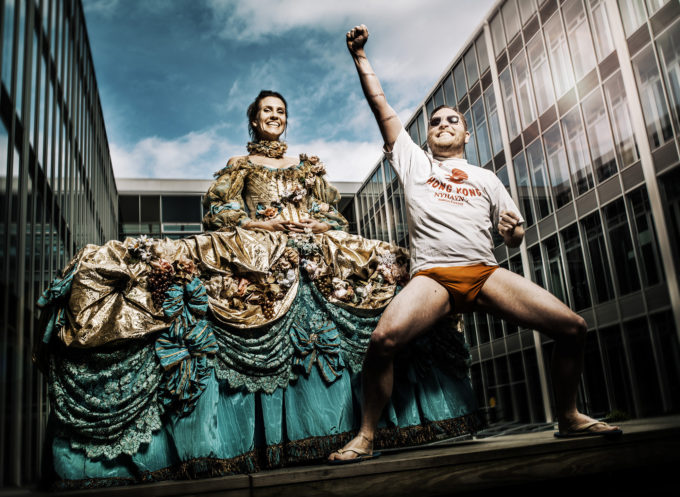 Kim Wendt (b. 1970) is a professional photographer based in Copenhagen. For the past 20 years, he has been one of the most significant commercial photographers, and lately he has expanded his visual universe to include video. Kim masters everything from wetplate photography on analog large format cameras to high-end cinematic cameras. When he's not shooting commercially, he's working on his #coffeeandsnapshots project. The portrait was shot at the Danish Broadcasting Corporation, and yes, that floral dress is huge, and the speedo is tiny. www.kimwendt.dk
***
Bjarke & Natalie V by Jon Bjarni Hjartarson – 70 x 100 cm – Nikon FA2 + Nikon 28mm f2.8 Series E + Kodak Ektar 100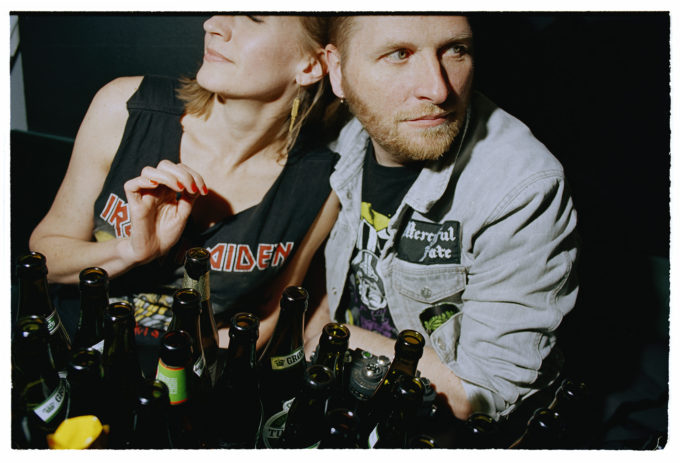 Icelandic born Jon Bjarni Hjartarson (b. 1978) is Denmark's premier street photography artist. His first camera was an Instamatic. Since then, he moved on more advanced cameras (including digital), only to return to the medium he loves the most – analog photography. His special flash-style has made him famous on social media where his many powerful portraits, especially those of the "lower class", has earned him great respect. This wedding portrait was shot at Zeppelin Rock Bar in central Copenhagen, which the Ahlstrand couple are co-owners of. Natalie's favorite band is Iron Maiden. Bjarke's are Ghost and Mercyful Fate. 
www.jonbjarni.com
***
Bjarke & Natalie VI by Morten Raarup – 70 x 105 cm – Leica SL + Leica 24-90mm f2.8-4 Vario-Elmarit-SL ASPH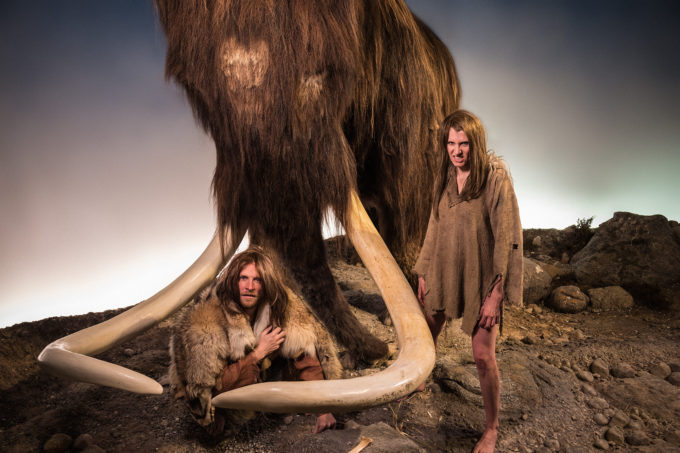 Morten Raarup (b. 1973) is not only a film maker, editor and producer – he also has a black belt in karate. Morten left the television business to focus on commercials and editiorials, and is a very skilled editor. He's a big fan of Leica lenses and shoots most of his productions on them. This portrait was shot at the Natural History Museum of Denmark in Copenhagen.
 www.mortenraarup.com
***
Bjarke & Natalie VII by Thomas Larsen – 70 x 93 cm – Leica M240 + Leica 35mm f1.4 Summilux ASPH FLE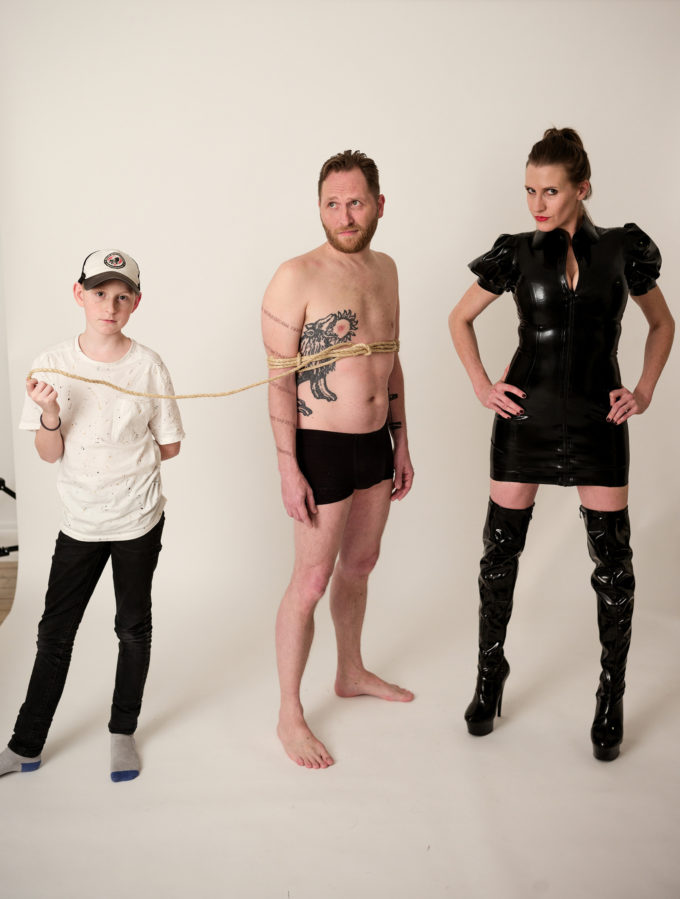 Thomas Larsen (b. 1975) is a photo journalist (Danish School of Media and Journalism) with a passion for people portraits and street photography. His career began at Danish Newspaper Jyllands Posten, but today he works as a freelancer. Thomas' journeys through Cuba, France, and most recently New York, are documented on his Leica cameras. Thomas shoots both analog and digital. This was shot on a digital Leica, and was actually meant as a bonus/behind the scenes image, but we ended up liking it so much, that it was chosen for this series. It's Managing Dictator's youngest clone, Viggo, holding the rope. Always. www.thomaslarsen.com
***
Bjarke & Natalie VIII by Ole Haupt 70 x 105 cm Canon 5D Mark IV + Tamron SP 85mm F1.8 Di VC USD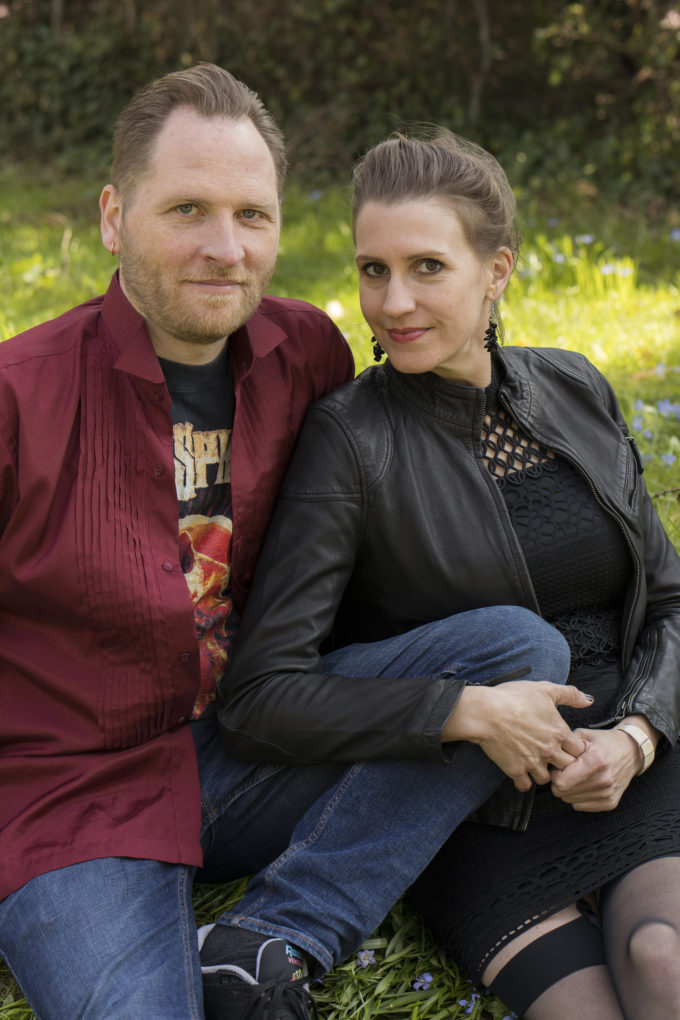 Ole Haupt (b. 1946) has been a professional photographer and musician for the last 50 years. His fist exhibition was in 1967. Through out the years he has shot portraits and reportage nationally and internationally for magazines, newspeapers, museums, books etc. His portrait book, "Øjeblik" (Bogværket) was published in 2010. Ole is a master in a darkroom, but refuses to shoot or print analog anymore (in fact, his old enlarger is now in Managing Dictator's dark room). For this shoot we went for something old-school, traditional, and went to the Bispebjerg Cemetery in north Copenhagen. The shirt is the one Bjarke wore at his first wedding in 1999. 
www.olehaupt.dk
***
Bjarke & Natalie IX by Svlstg – 70 x 75 cm Hasselblad H4D–40 + Hasselblad HC 80mm f2.8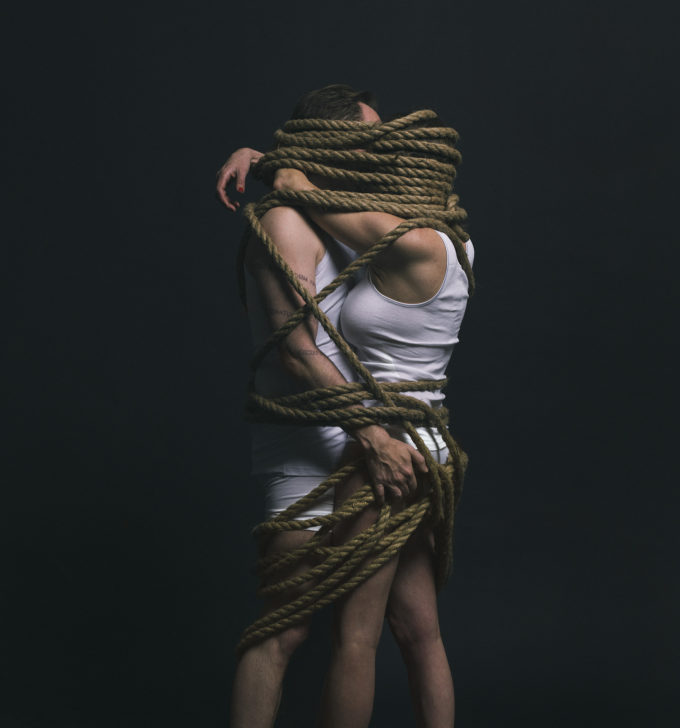 Svlstg (b. 1976) is a photographer, artist and director. Extremely creative and productive, balancing between reality and fantasy, and commercial and controversial works. In 2011 he published his 256-page book, "What a Beautiful Waste of Talent" (EMI). Under the alter-ego Tomace, the world first got a glimpse of his talents, and he was exhibited nationally and internationally. Since then his signature style has evolved and the new works are both sinister and sexy at the same time. A new exhibition consisting of 24 new works is being planned for September 2017. This was shot in Svlstg's studio in Copenhagen, a few days prior to the wedding, and the rope was was natural fibre. www.svlstg.com
***
Bjarke & Natalie X by One Of Many – 70 x 105 cm – Sinar P2 8×10" + Dallmeyer Petzval 34cm f4 + Impossible Project Polaroid 8×10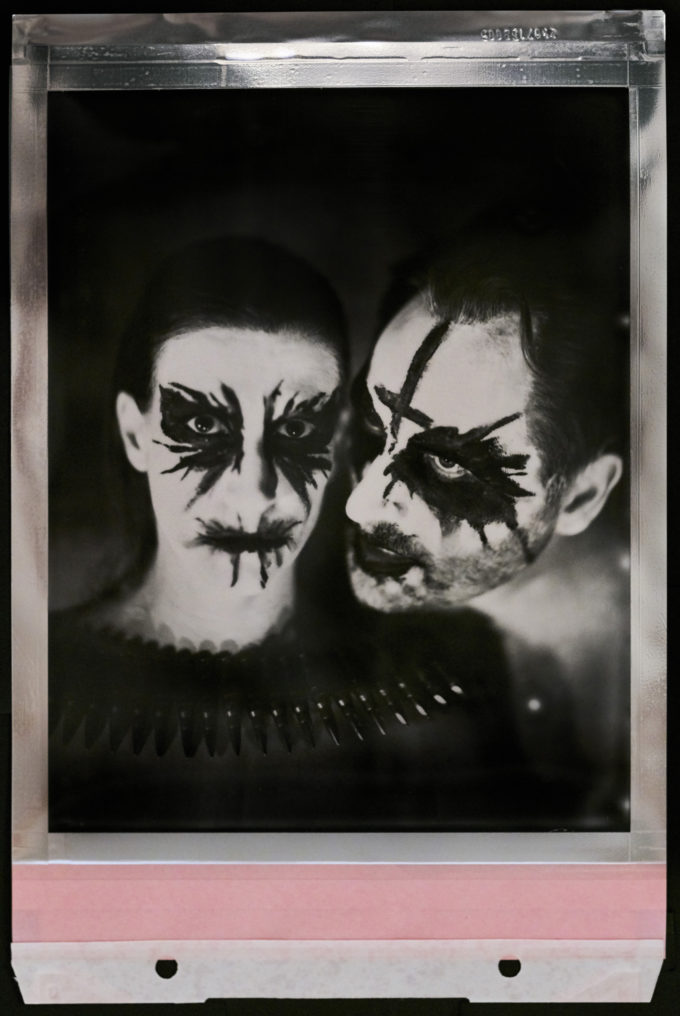 One Of Many is visual artist Bjarke Ahlstrand (b. 1976), who has produced live and dead images (television and photographs, respectively) on a professional basis since 2004. He is also known as One Of Many Cameras' Managing Dictator. His portraits differ heavily from his commercial productions, as seen in his first photographic book, "After". This self-portrait of the bride and groom was conceived in the couple's home in Copenhagen, using an 1880's large format Petzval brass lens on a gigantic 8×10″ polaroid. The bullet belt necklace was given to Bjarke in 1995 by a Norwegian black metal musician. www.oneofmany.dk
***
Bjarke & Natalie XI by Jonas Normann – 70 x 105 cm Leica M6 + Leica 50mm f1.4 Summilux ASPH + Kodak Tri-x 400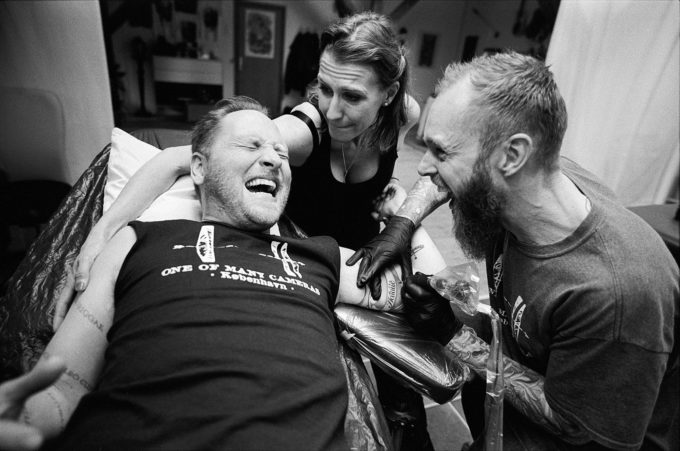 Jonas Normann (b. 1979) is a Vejle based photographer and video producer specializing in portraits, corporate, and documentary photography. His video production work ranges from creating viral promotional videos to high-end documentary and commercials for web and television, but Jonas' real passion is still photography, a genre which he masters in both digital and analog styles. This image was shot in Svendborg, where tattoo artist Søren Granhoff Schjøtt inked Natalie's name in Bjarke's empty heart.
 www.jonasnormann.dk
***
Bjarke & Natalie XII by Tom Lindboe – 70 x 110 cm Alpa 12TC + Alpa 40mm f4 HR Alpagon + PhaseOne XF100MP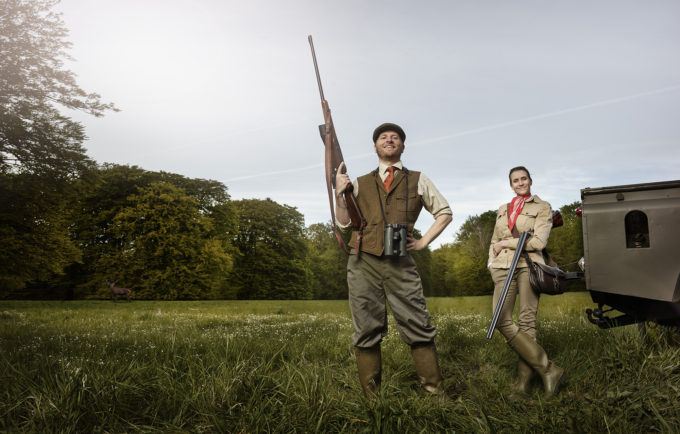 Tom Lindboe (born 1971) is a Danish photographer and storyteller. He has documented stories with his camera all over the world for more than 20 years. His work includes advertising, fine art, editorials and reportages, as well as many different motifs. However, over the past years Tom has returned to capture his initial love: the beauty of nature and man. He is most well-known for his clean, graphic-style that translates into powerful imagery, from the drama of nature to intriguing celebrity portraits. He currently works and lives 50/50 in the USA and Denmark. Shot in Raadvad, north of Copenhagen, on Tom's insane resolution 100 megapixel digital back, so the hundreds of mosquitos who attended the photo session are actually visible when zooming to 100% on the original file. Clothes, weapons and Land Rover are Tom's property.