CRAZY COMPARISON! The Olympus E-P3 with 12mm vs the Leica M9 and 24 Summilux ASPH!
It's Wednesday morning at 6am and what better to kick off the hump day than with a Crazy Comparison?!?! I have not done of these in a loooong time so I figured it was about time for a new match up. This time I am pitting the Olympus E-P3 micro 4/3 camera with the new 12mm f/2 lens against the bag, bad Leica M9 and $24 Summilux ASPH. The E-P3 set comes in at about a $1700 price tag while the Leica M9-P and 24 Lux comes in at about $14, 500. Now, the Leica has the full frame sensor so I was never expecting it to lose out to the much smaller 4/3 sensor but that is why this is called a CRAZY COMPARISON!
It is just for fun, so please…no need to get all bent out of shape (as many of you did with previous Crazy Comparisons).
The files are ALL Out Of Camera JPEGS because the E-P3 RAW files are not yet supported by Lightroom or Photoshop. All settings were the same. Same ISO, SAME aperture, SAME (equivalent) focal length. The Oly 12mm comes out to a 24mm equivalent on the E-P3. We get the 24mm Field of view with 12mm Bokeh. The M9 uses the 24 Summilux which gives us a true 24mm field of view and 24mm bokeh.
This is a comparison of JPEGS only, as they come out of the camera, in each cameras native resolution.
So…let's get on to the photos!
YOU MUST CLICK EACH PHOTO TO OPEN THE FULL SIZE OUT OF CAMERA JPEG FROM EACH CAMERA!
Each file was saved as a level 10 JPEG after opening the file in Photoshop. No PP!
1st up, the Olympus E-P3 – 12MP – 12mm (24) – F/2 – ISO 200 – AWB
CLICK IMAGE FOR FULL SIZE OOC JPEG!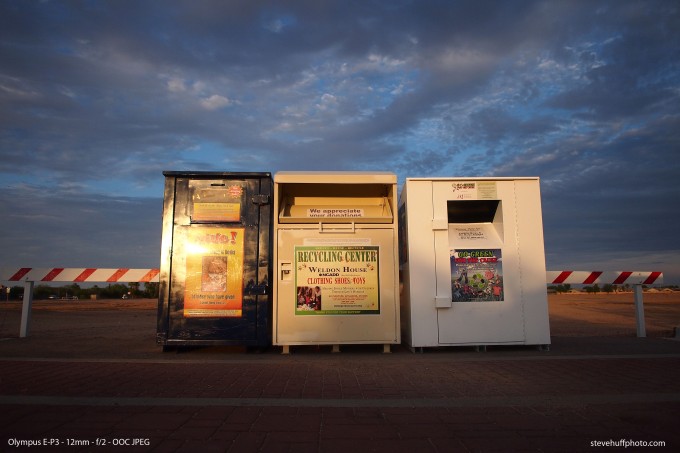 –
and now the Leica M9-P with 24 Summilux, same settings – F/2 – ISO 200 – 24 Summilux – AWB
CLICK IMAGE FOR FULL SIZE OOC JPEG!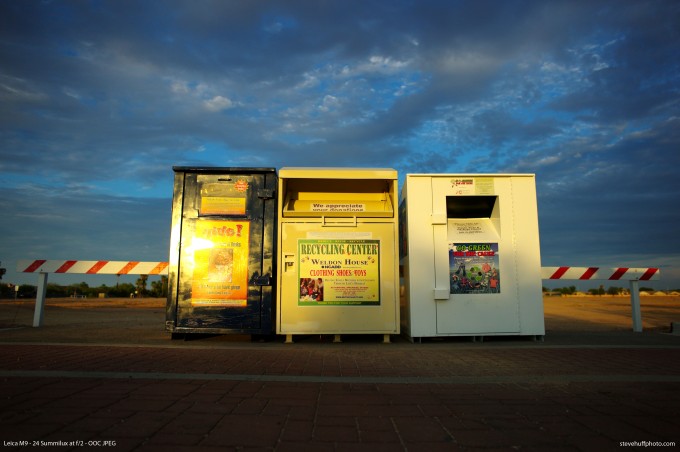 In the 1st comparison the Oly picked the better White Balance. Both were set to AUTO WHITE BALANCE to test each cameras AWB rendition. I was curious and it appears the Oly wins in that dept. This makes the Oly the more accurate representation color wise. Of course I could take the M9 RAW file and fix it up easily but again, this is just a simple OOC JPEG CRAZY comparison! If you click each image you can view the full size file. Both were shot at F/2 which was wide open for the Olympus 12mm, and the Summilux was stopped down to f/2 from 1.4. It appears the Lux vignettes even at f/2, which is one thing full frame sensors seem to do with wide angle lenses. It also appears the little Oly's Dynamic Range is decent. The sun was hitting the bins directly.
–
Ok, let's do another one. This time I will start with the M9 file.
Leica M9 – 24 Lux at f/2 – ISO 200 – Click image for full size OOC JPEG file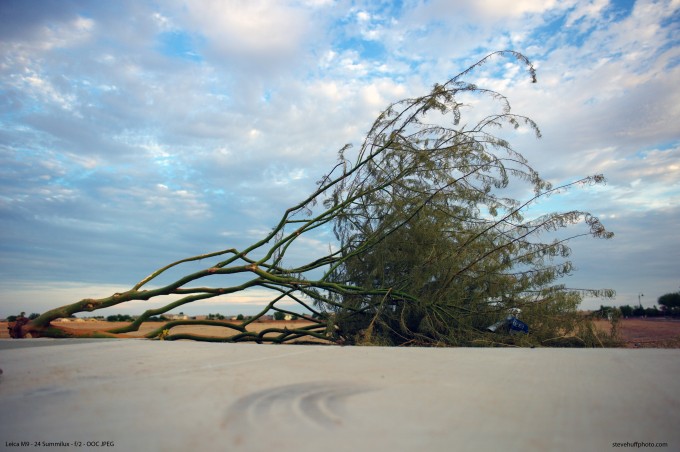 –
Olympus E-P3 – 12mm (24 equiv) – f/2 – ISO 200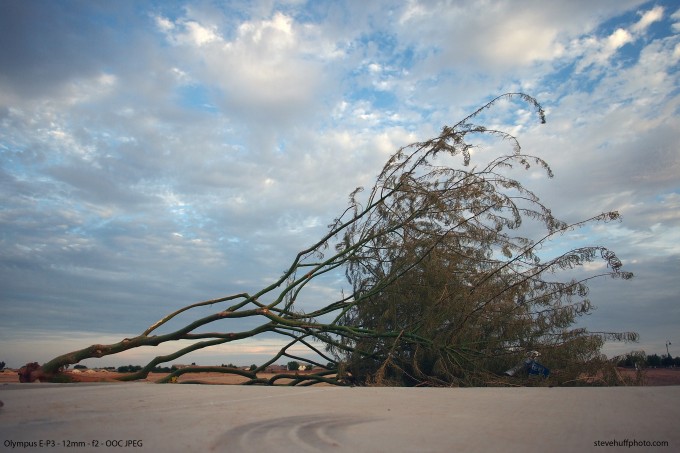 It is clearly evident that you will get a more shallow depth of field (background blur) when shooting on a full frame camera with a full frame lens, meaning, when you shoot with a 24mm lens you get a 24mm field of view. When shooting the Oly the lens is a 12mm but do to the half frame sensor we are getting a 24mm equivalent view, but still the depth of field of a 12mm lens. Still, I LOVE this little Oly lens, it is incredible if you are invested in the Micro 4/3 format.
–
Ok one more! Why not? This time I resized both down to 1800 pixels wide so when you click on these you will NOT get the full size OOC JPEG but rather the downsized versions. It's easy to see the more shallow depth of field in the Leica shot (2nd shot), and this the "Leica Look" with the Summilux rendering.
1st shot, Olympus E-P3
–
2nd shot, Leica M9-P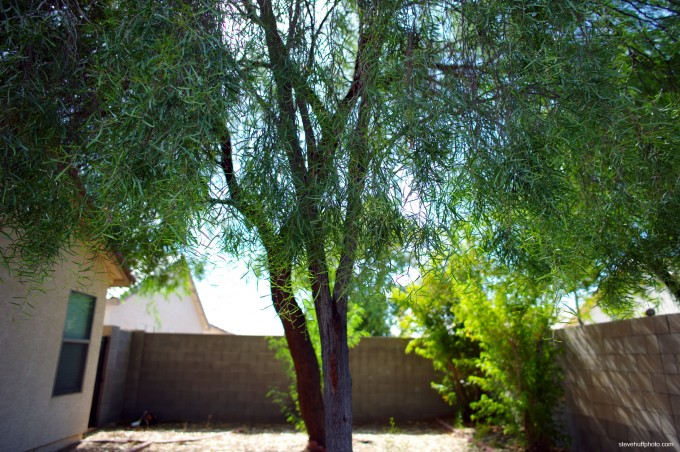 So that's it! I posted this for fun, not for any kind of scientific reasons. If you look down below at the related posts you will probably see older crazy comparisons and they are always fun to check out 🙂 It seems like both the M9-P AND Olympus E-P3 are pretty hot right now as they seem to be out of stock everywhere.
Site sponsors B&H Photo sell the Leica M9-P as does Dale Photo and Ken Hansen (email: KHPNY19@AOL.COM). Lensrentals.com rents the entire Leica lens line if anyone out there wanted to give the 24 Lux a try. Me, I'm happy with the M9 and a 50 these days. Gotta love the M9 and the 50 Lux ASPH. Magic!!!
As for the E-P3…I have been using it non stop and Olympus has a winner, no doubt. It's the best PEN yet!
[ad#Adsense Blog Sq Embed Image]