My Favorite Camera Shops & Dealers. Ever.
There are so many camera shops, store, internet sites and dealers out there ready to take our cash and send us a new fresh box of happiness. If you are like me, receiving a new package from the Fed Ex or UPS man brings  not only a smile, but a rush of energy, happiness and joy.
I love my cameras and over the last 20 years I have learned WHERE To buy from to get the most hassle free and enjoyable experience, as well as the best deals sometimes.
I always get e-mails asking me "where should I buy XXX camera"? Well, here you go. These shops are also site sponsors because I accepted them as sponsors (I turn down many every year). 
Over the years I have recommended the same dealers here. Those that I have worked with and bought from on many occasions. I have shopped from a few other sources but sometimes have had a negative experience so this is why I only recommend those who I trust and those who have really went above and beyond. I only allow advertisers and sponsors whom I trust and support back and know would never rip anyone off.
Look what the USPS man drug in..direct from Ken Hansen. The Leica Monochrom in silver chrome and the new M-P in black.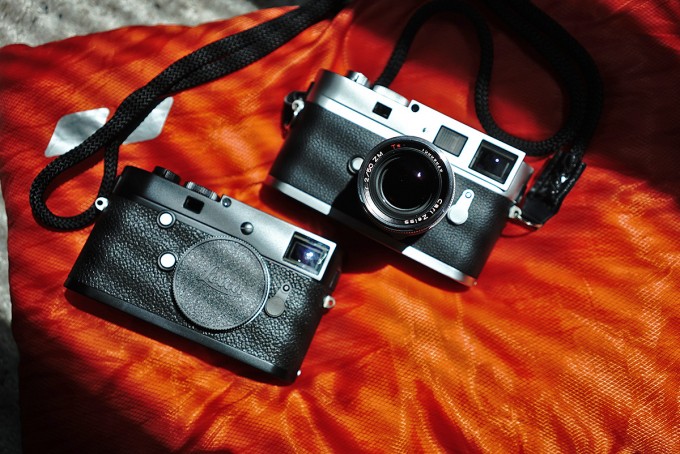 Below is a list of whom I buy from, who I have had great experiences with and all of those that I trust and put my name behind when it comes to camera dealers and shops!
1. Ken Hansen – This guy is everything LEICA. He has been a Leica dealer forever and used to own a store in NY. He now works from his home as he is semi-retired but his Leica business is still going strong with many Leica shooters praising his name every day. Ken has become a legend..legendary. I have never in my life experienced anything like Ken from ANY shop, dealer or store, ever. He goes above and beyond and the funny thing is he does not even have a web site, a Facebook or twitter 😉 He runs it all from his home via phone or e-mail. He has been with me since day one and you may have seen his ad in the sidebar before. It will be there for the life of the site because if it not for Ken (and a couple of other friends) this site may not have made it!
Ken has new Leica and often times has used items and unique items as well. Just call him at 212-879-3263 or send him an e-mail at khpny19@aol.com and let him know what you want, need or are looking for. Most likely, he will have it. Plus, mention my name and you may get a bit of a deal..maybe. I stand 100% behind Ken Hansen.
—
2. B&H Photo – These guys are the king of Retail and Online sales. They do MASSIVE volume. I mean MASSIVE. I have been to the store and it is a sight to see. Hundreds of customers at any given time, long lines to check out (but they go fast) and conveyer belts that travel through the store to deliver your goods when you exit. Amazing. They have the best online experience I have encountered. First, if an item is in stock and ready to ship, it says so clearly. If it is not, it clearly states this. No guessing games. They ship same day as well if you order before a certain cut off time. So technically you could order a lens on a Monday morning and have it arrive Tuesday. They also are top notch on their returns, undo nay to Amazon. It is an online automated process, never needing to email someone or call someone for an RA number. B&H Is the king of camera retailers. You can see their site here and they sell all kinds of goodies, not just photo related. They are sort of a giant electronics megastore. I give them a 100%!
—
3. Amazon
– Who does not shop from Amazon? Myself and everyone I know shop at Amazon and they are doing amazing things..amazing. Amazon is the future of internet shopping, food shopping and everything in between. I believe in 10 years Amazon will have the most amazing services. You can get anything and everything from Amazon. I have certain household items get delivered every month using their subscribe and save feature and I also buy tons of music (LP's) and camera accessories such as Gariz cases, caps, batteries, lights, etc. They have anything and everything. Click here for a link to Amazon
and see for yourself. Never an issue with them, ever! The return policy and process is painless and simple. You even get a label to print for easy return. My score = 100%!
—
4.. PopFlash.com – PopFlash has been around for a long long time and Tony Rose is the man who owns and runs it. He is well-known among Leica shooters but he also sells Fuji, Olympus, Zeiss and many other brands at his online shop. I have purchased Leica lenses, cameras and Artisan and Artist bags and cases from PopFlash and Tony always comes through. They have some superb prices as well and when you see the "used/mint" pricing on some Leica items you may be super tempted to go for it. Check out the site at PopFlash.com! 100%
—
5. CAMERAQUEST – Run by Stephen Gandy this long time Voigtlander dealer has just about anything you could ever want from the brand. There are a few Voigtlander lenses that stick out to me and some I like better than Leica glass! The 35 1.2 II, the 15 4.5, the 50 1.5 Nokton, all superb and all a fraction of the cost of a Leica lens. If you want a great buy and fast shipping on Voigtlander lenses then you must check out CAMERAQUEST! 100%! Check out the shopping site HERE!
So there you go, my fave dealers and vendors. When you want to buy a camera or lens or accessory or ANYTHING, check them out! They are what help to keep this site running!