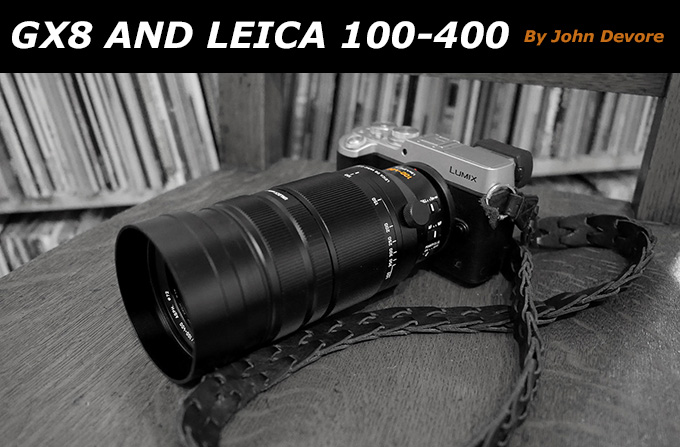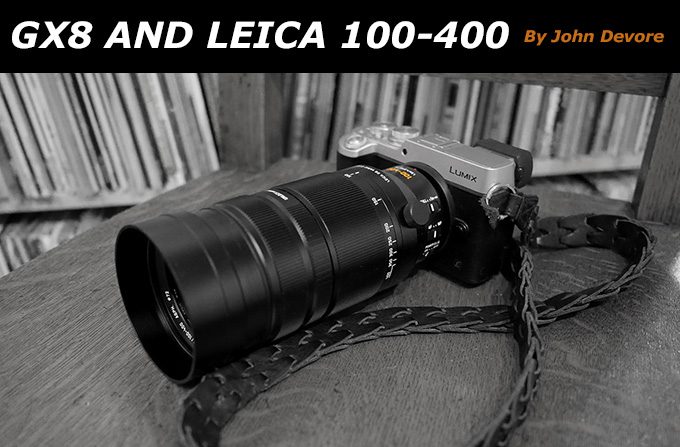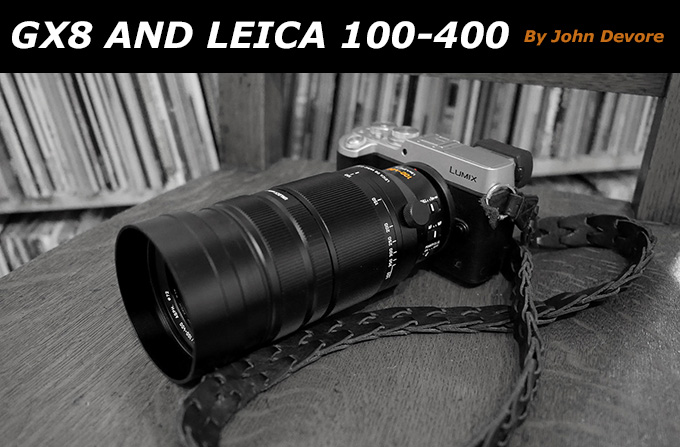 In the Galápagos with the Leica Vario-Elmar 100-400mm and the Panasonic DMC-GX8
By John DeVore
I had the incredible good fortune this year (my 50th) to be able to take two photo trips of a lifetime. The first was to the Galápagos in April and the second was to the Mille Miglia vintage car rally in Italy just two weeks later. I took different lenses to the two events so I'll cover each trip with a separate column.
I had gotten into the Micro 4/3 world over the summer with a Lumix GM5 and a handful of lenses. I love it, but I knew that to shoot wildlife in the Galápagos I would need a lens with far greater reach than my Olympus 75mm f/1.8. I also knew that in order to shoot at long focal lengths hand-held I would need excellent image stabilization. The Olympus bodies were tempting with their best-in-class stabilization, but one of the things I loved about the Lumix bodies when used with some of the Leica glass is the ability to control aperture with an old-school ring on the lens.
Then the Lumix DMC-GX8 was announced and I pounced. Not only did it offer in-body IS, with the ability to synchronize with the in-lens IS of many Panasonic and Leica lenses, it was also the first M4/3 body with the new generation of 20MP sensors. Perfect, I thought. Now the lens…
Two lenses had been announced that were excellent candidates, the monster Olympus 300mm f/4 IS Pro prime and the very interesting Leica DG Vario-Elmar 100-400mm f/4.0-6.3 ASPH zoom. Unfortunately the expected ship dates were too late for my upcoming trip, or so it seemed. The launch date of the Leica started jumping around, so I pre-ordered one and crossed my fingers. I knew if it didn't arrive in time I could grab the older Panasonic 100-300.
Less than a week before the flight the big Leica arrived. The style is pure modern Leica with a minimalist black surface accented by white and yellow text, and that red dot — I love the look. I took it to the park every day to get the feel of it, and to practice nabbing shots of birds and chipmunks flitting about: honing my reflexes and finding sweet-spots in the system. The combination of the big lens with the chunky Lumix body felt wonderfully solid and was perfect in the hand. It responded very well once my hands learned their way around and I went from fiddling with gear to making pictures.
Great Frigate resting @ 400mm f/6.3 1/640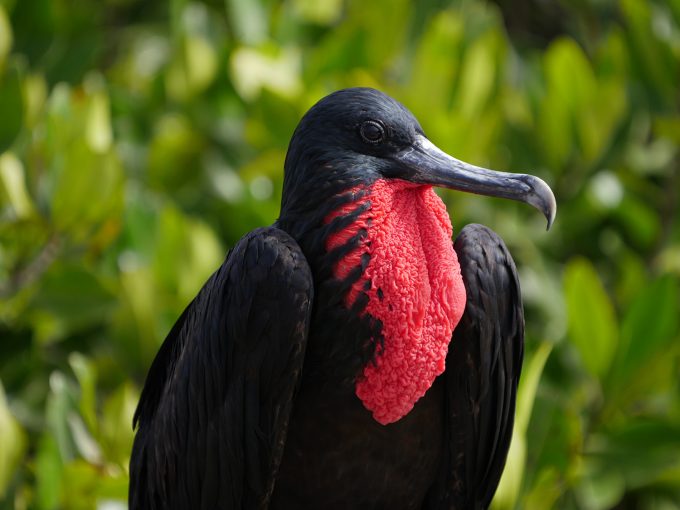 –
A Great Frigate Bird in flight @ 141mm f/7.1 1/500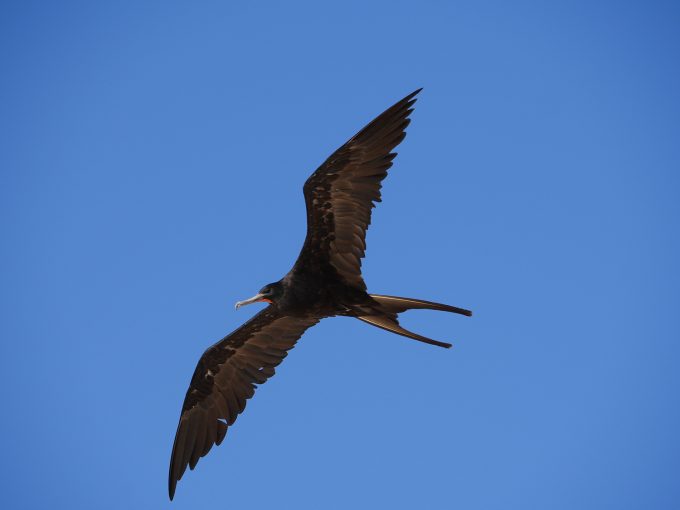 –
Four Flamingoes fly by @ 400mm f/6.3 1/640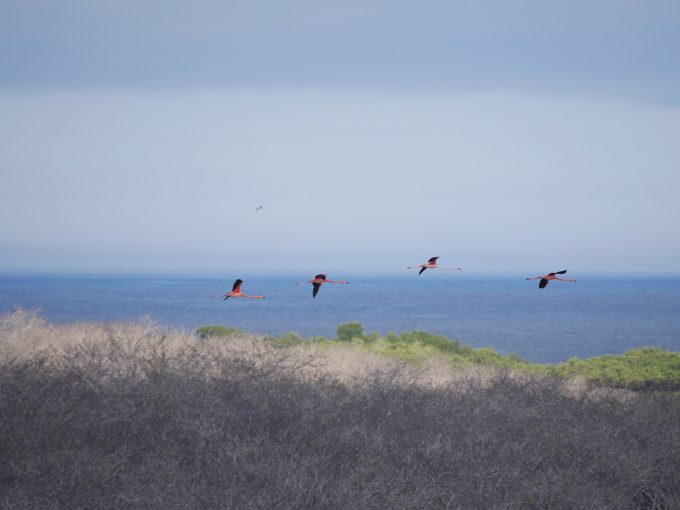 That hand-learning brings me to my biggest complaint with the GX8 body. While it is extremely capable and easy to adjust on the fly, there are simply too many controls on the camera. My right hand fit the grip perfectly, and it allowed precise control of the camera even with the heavy Vario-Elmar mounted, but there are buttons sprinkled everywhere on the body. Little flush-mounted programmable (Fn) buttons lurk on the top, at the center of various control wheels, and camouflaged around the grip in the textured vinyl wrap. It was these last ones that caused trouble for me. A button under the tip of my middle finger in front, and one under my palm around back were far too easy to press accidentally. If there was a way to assign them no function at all it would be fine, but the best I came up with was to set them to innocuous things like the level display and silent mode and try to avoid pressing them. This was more of a problem with the heavy zoom lens than with the smaller primes, but it did take some getting used to.
A young Flamingo @ 400mm f/6.3 1/640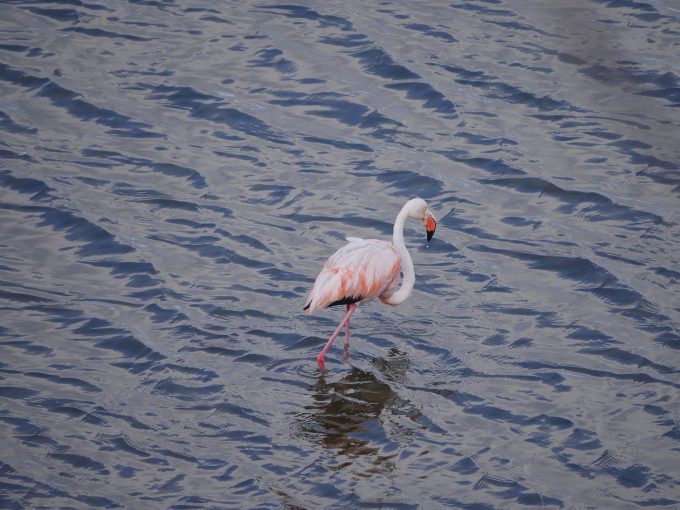 –
A directionally challenged Waved Albatross @ 137mm f/7.1 1/320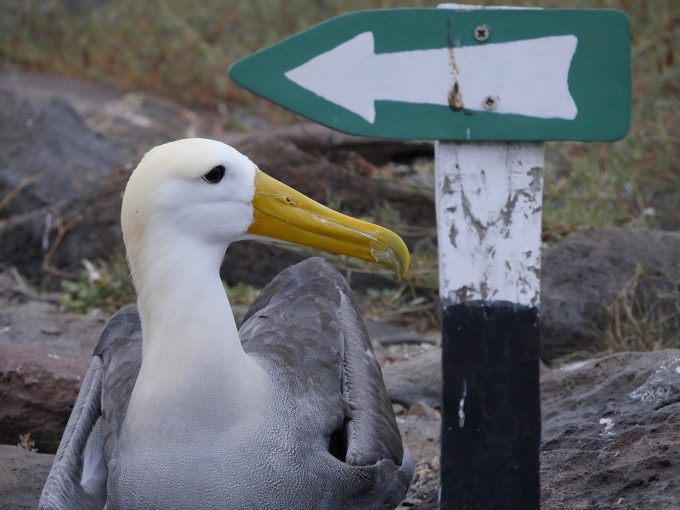 –
A fledgling Nasca Booby @ 400mm f/6.3 1/1,000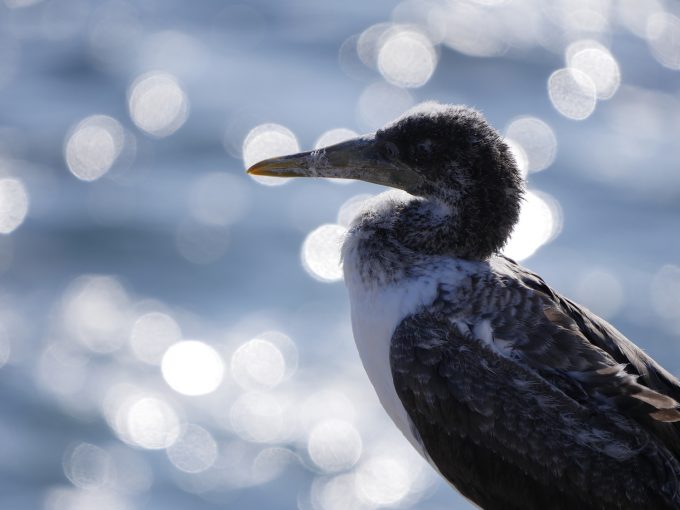 –
Mocking Bird @ 400mm f/8 1/640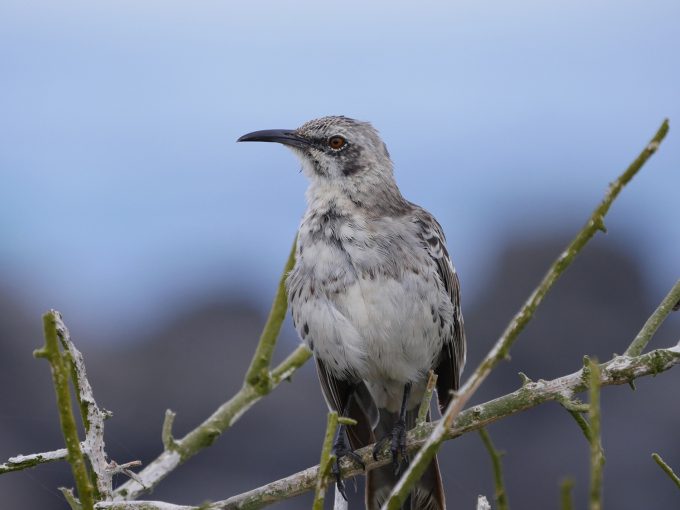 The auto-focus in "intelligent Auto" mode was very quick, and the metering was excellent. In aperture priority mode however the AF does hunt around quite a bit. It's not as bad as some other lenses (the otherwise excellent Oly 75mm is particularly bad in this regard) but it can be frustrating while shooting wildlife. It does have a switch on the barrel to limit the auto focus to 5m and beyond; but because the animals in the Galápagos are so fearless they are often quite close I kept the switch in the normal position. The other two switches on the lens toggle the auto-focus and IS on-and-off. Since I switch between AF and manual focus on the camera body, and was hand-holding only, I ended up never using any of the switches. There's also a control ring to lock the lens into one focal length, a feature that seems interesting but of no use to me on this trip. The focus ring was buttery smooth with very nice resistance (something all M4/3 lenses seem to have accomplished these days). The zoom ring was quite a bit stiffer than I had hoped, and had a slightly scrape-y feel, but it is moving a lot of glass several inches through weather seals. Again, once I adjusted to it I managed just fine.
Marine Iguana sunning herself on the pier @ 400mm f/6.3 1/640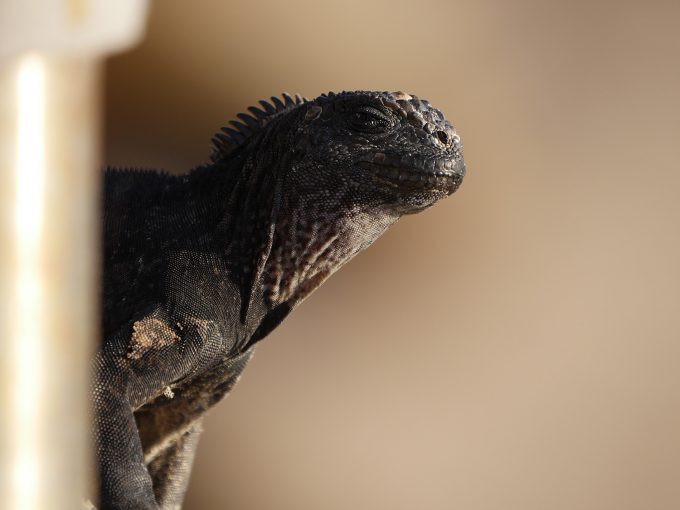 –
Brown Pelican @ 150mm f/6.3 1/320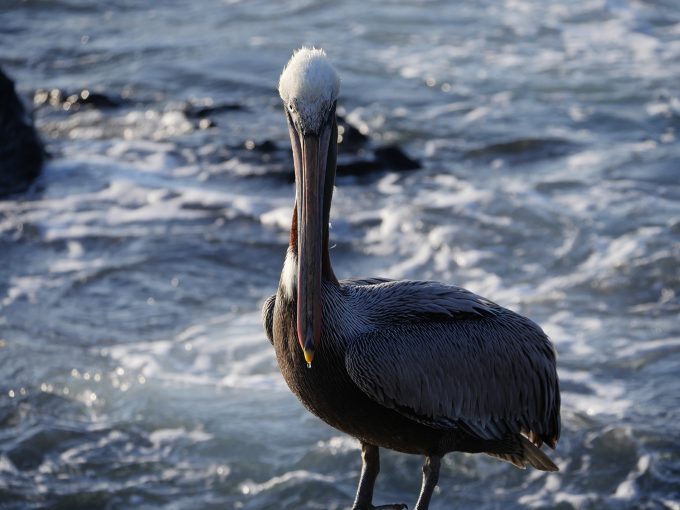 –
Golden Warbler @400mm f/6.3 1/640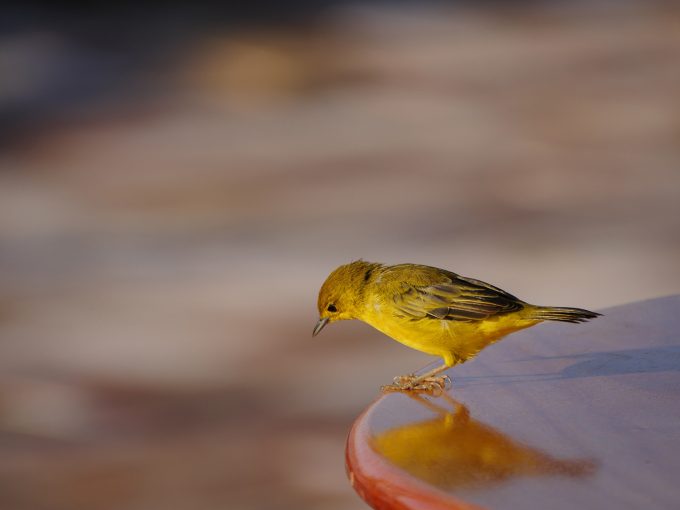 –
Short Eared Owl resting after her meal @ 400mm f/8 1/200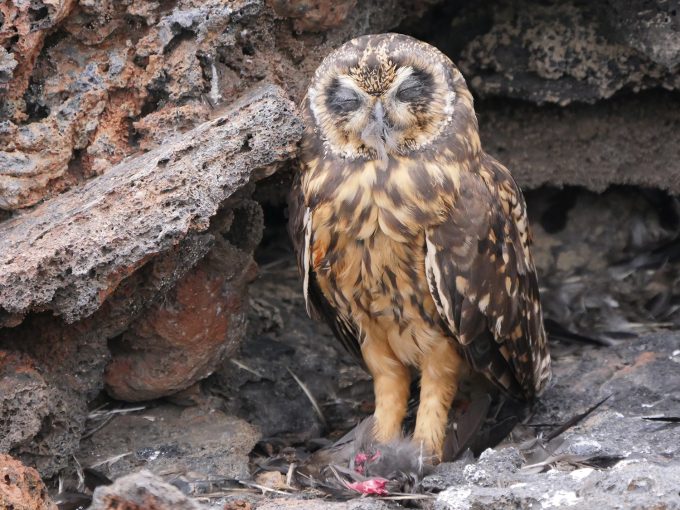 –
Red Footed Booby adjusting her egg @ 156mm f/8 1/400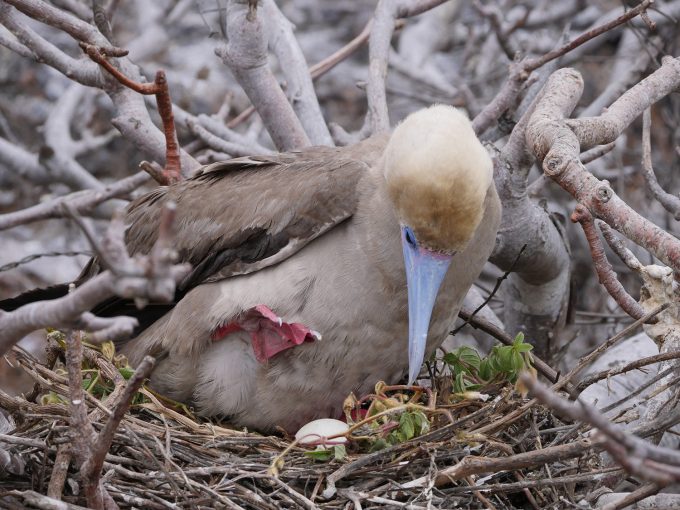 –
A handsome Red Footed Booby @ 236mm f/5.3 1/500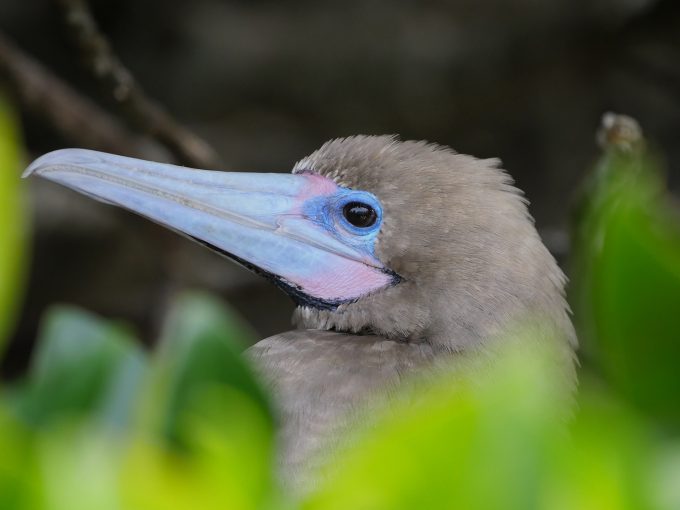 In use in the field it was absolutely perfect. Because the M4/3's smaller sensor doubles the reach of the lens when compared to a full-frame 35mm system I had the equivalent of up to 800mm of reach. The dual IS worked it's magic so well I never hesitated to shoot at full zoom and so I had more flexibility than anyone else in any of the groups I was with, and carried around far less weight. I got more than a few bewildered looks from guys with full harnesses draped with multiple bodies and swinging white tele lenses. I shot in aperture priority with auto-focus most of the time, with a bit of manual focusing when needed for particularly tricky spots. I used iA mode occasionally for the faster focusing ability in order to catch birds in flight and other fast-moving targets. All modes worked flawlessly, and switching back and forth became intuitive and very fast. The system allowed me to get great subject isolation by zooming in very tight, narrowing depth of field or both. Bokeh is smooth and simply lovely — well controlled and far better than I had hopped for from such a massive zoom. And a note on an often dismissed feature of the GX8 body: the tilting EVF. I use the EVF easily 90 percent of the time, and found the tilting function essential (once I got the hang of it) for a great number of very low angle shots. It allowed me to get shots from ground or near-ground level without having to lie flat on my stomach (the giant tortoise portraits for example). Again, incredible flexibility.
Morning dew on Dragon Mountain @ 300mm f/5.7 1/640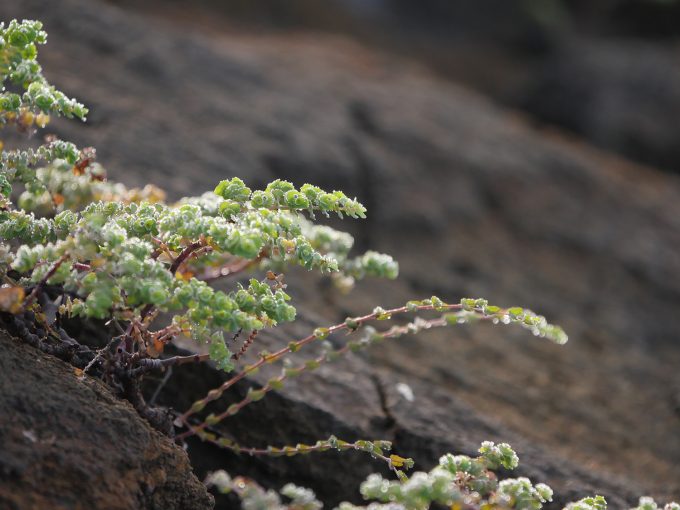 –
Great Blue Heron resting in the shade @ 250mm f/5.6 1/1,300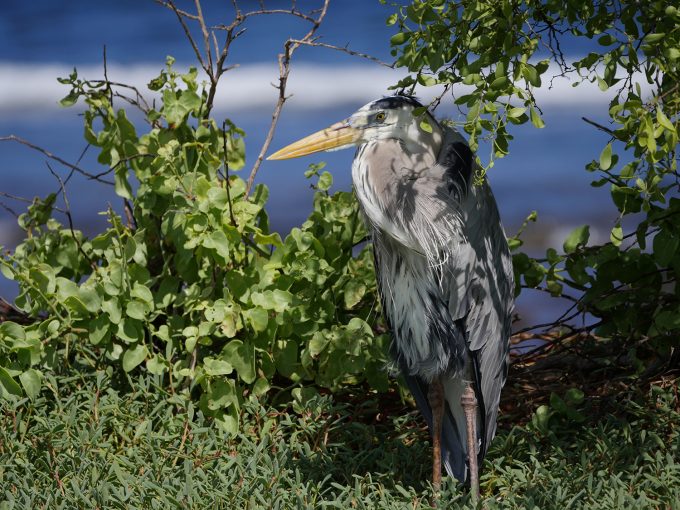 –
Female Land Iguana @ 400mm f/6.3 1/640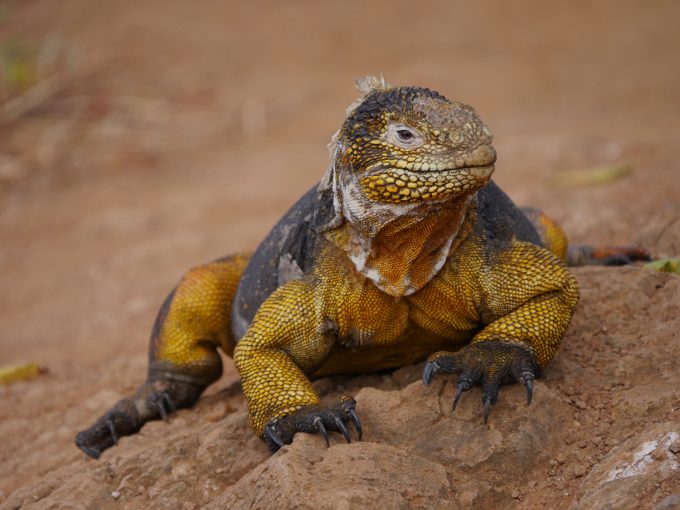 –
A Giant Tortoise pauses to reflect @ 350mm f/6.3 1/500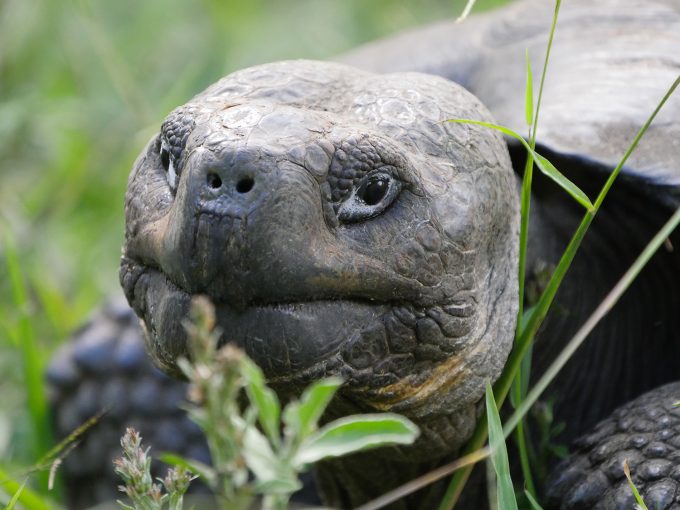 I brought three batteries and only had to go to a second battery on two of the five days of expeditions. I shot over 2600 photos in all, so battery life was acceptable. I used a single 128GB SanDisk Extreme class 10 card and never came close to filling it. Two or three times during the trip the system started feeling slow and sluggish with more focus hunting than usual, and each time to fix was a reboot by pulling the battery for a couple of seconds. It could have been due to the giant SD card, I don't know. I shot only in jpeg and all images are straight from the camera with no cropping or adjustments. I'm quite pleased with the results, and think the Leica DG Vario-Elmar 100-400mm f/4.0-6.3 ASPH paired with the DMC-GX8 did an outstanding job all around, while keeping the system light, the cost moderate and looking fantastic while doing it. Very highly recommended.
A hungry Giant Tortoise @ 400mm f/7.1 1/640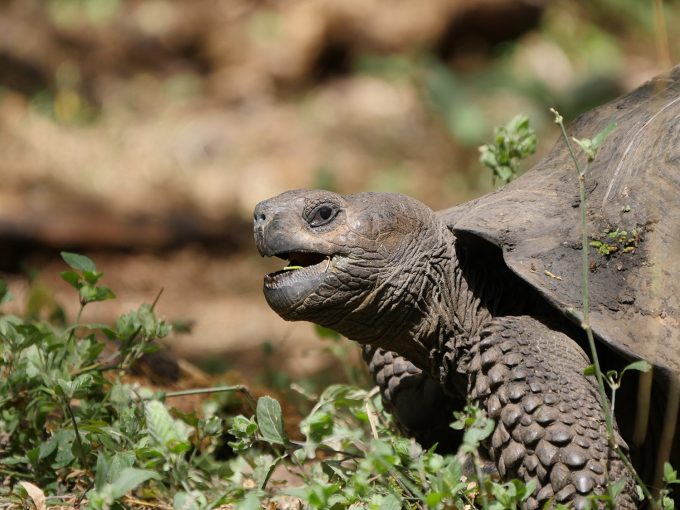 –
A Darwin's Finch @ 250mm f/7.1 1/640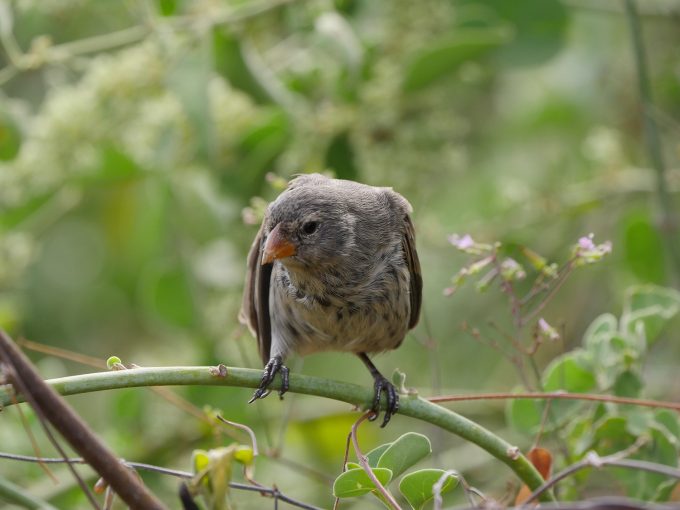 These trips used every bit of my vacation for the year, so you'll find me at my speaker company DeVore Fidelity every day until I save up for another one. www.devorefidelity.com