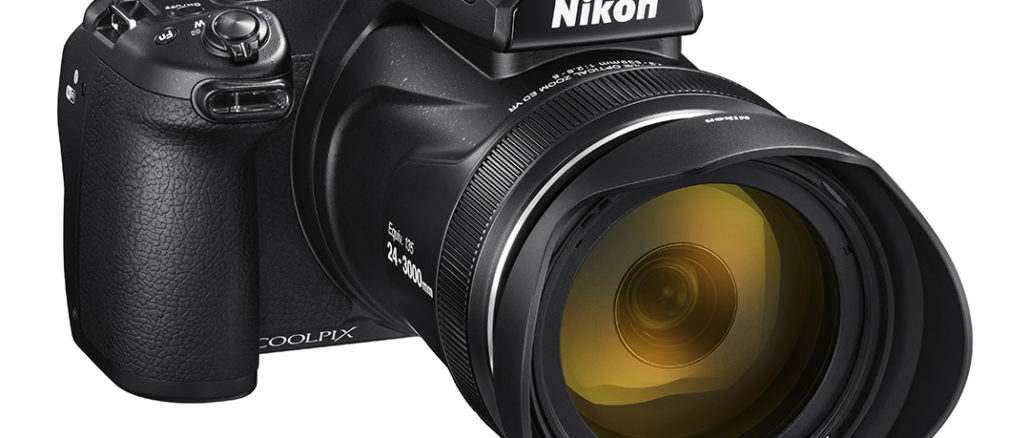 A new Nikon Mirrorless Camera is announced..Let's Party (Like it's 2011). Nikon P1000.
By Steve Huff
I'm sorry. Just apologizing up front for this as today I saw this new Nikon announced and it seems like Nikon is still stuck back in time just a bit. Releasing a fat chunky HUGE BODY and on the heavy side mirrorless camera, with a crazy 24-3000 equivalent zoom, and a tiny phone sized 16MP sensor. Yes, you read that right, a 24-3000mm equivalent zoom. Now, being a fan of QUALITY cameras, and cameras that focus on quality, this one loses me INSTANTLY! Yes, this is the new Nikon P1000. 
First off, the design, to me, is ugly (though that is personal preference, to you it may be gorgeous). I'm sorry. In person it is HUGE. I mean, it's HUGE. I could understand this if it had a larger sensor, or was a DSLR but it is a tiny sensor camera, you know the size used in P&S cameras many years ago. 
Second, the small tiny sensor will yield lackluster dynamic range, more image noise and well, inferior performance to todays newer, more advanced 1″ sensor cameras. Zoom out to 3000 and be prepared for high ISO noise, and in video, jitters and not so hot quality. No, 3000mm will not yield QUALITY results so IMO, it is sort of gimmick to make us say "WOW"!. With an f/16-f/45 equivalent aperture for DOF…well… you get the picture.
B&H Photo Made a 1st Look Video, so check it out for yourself. YOU may love this…but not me.
I just hope Nikons rumored (upcoming) interchangeable lens mirrorless (that should be announced within 2-3 months) camera is more serious than this. I mean, IT HAS TO BE or else Nikon may be in trouble. Believe that.
Sony is the one leading the way in mirrorless. It's a fact, not an opinion. Look at the numbers.
They are blazing a path with a streak of fire behind them and Nikon and Canon are playing hot foot trying to catch up.
If Nikon does not release a serious mirrorless SOON, eventually the Nikon brand will start to fade and that would be a SHAME as the mirror (DSLR) IS DYING a slow death. So I know…I KNOW they have to bring something very special to compete with the A7 and A9 from Sony. I also feel this will be coming SOON, and with adapters so Nikon SLR users cam use their beloved and great Nikon lenses immediately. The new camera will bring a new mount and new lenses, but also support for current Nikon glass. It has to. Hell, I can not wait to see what they offer as if it is a great design, uses a good (full frame) sensor, has fast AF and great low light it could be the perfect companion for the Noct Nikkor I want so badly ; ) If not, that not Nikkor will be used on a Leica SL or Sony body. But I have faith in Nikon for what is to come. They are too great of a camera company to NOT bring some heated completion for Sony. I'm looking for a nice heated street fight between Nikon, Canon and Sony soon with their top end Mirrorless systems. It is going to bring some excitement back to the mirrorless world, where it has been sort of one sided lately.
But this P1000?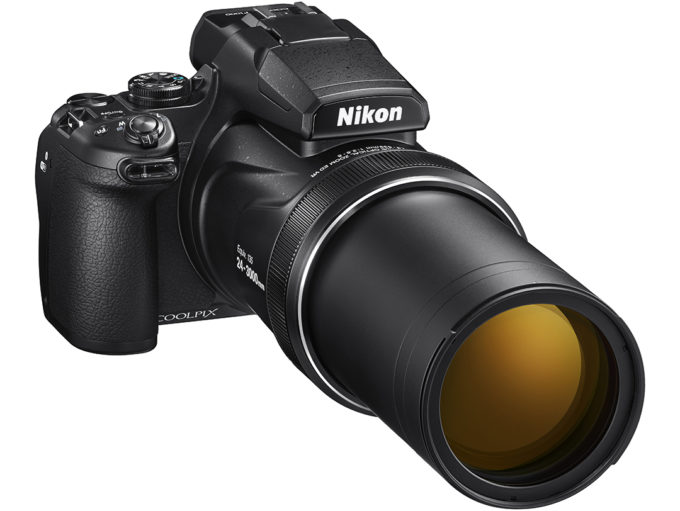 Yes this has a massive zoom range. But believe me, at 3000mm the quality will not be that great. It can shoot at a max of ISO 6400, which again, will be shoddy due to the tiny sensor and probably needed at 3000mm with an aperture of f/8. It has some IS inside that offers a 5 stop advantage but try hand holding at 3000mm. Not gonna happen. So pull out those tripods my friends. But hey, it has a button to shoot the moon, a "moon" setting ; )
There are samples online, but what I have seen so far are images with blown highlights, image noise, and flat rendering typical of a tiny sensor camera (though not all tiny sensors results are bad, some are quite nice as long as you do not push it) . All for $1000. I WOULD recommend this to those who want to shoot images of the moon, on a tripod, with some image noise included in the package. But think of it…if you have seen one moon pic, you have almost seen them all. They all look about the same. I used to shoot the moon, did it a few times and said "OK, looks like everyone else's image of the moon I have seen over and over". The moon is a boring subject, as it has been shot millions of times and there is no shortage of moon shots on the internet. It can be fun to shoot..once, maybe twice. After that, as the great B.B. King has said.."The thrill is gone".
THE BAZOOKA…from the B&H Video above.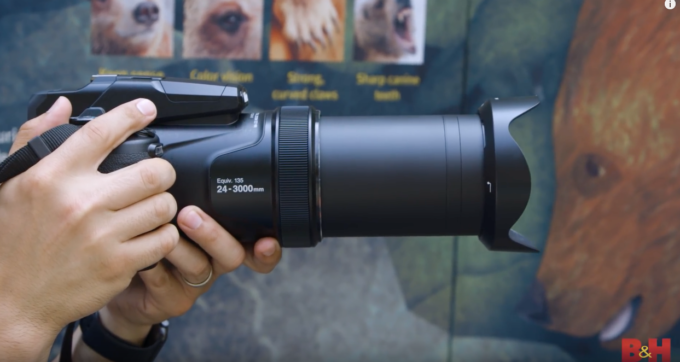 For birding? This could be cool. This could be the one area it would be great for. Get a solid tripod, and zoom in to your bird of choice. OK… this could be a good use for this massive beast of a camera. But do know it's about double the weight of the previous P900 and 40% or so more in cost. Went from $600 to $1000. But birds could be the one thing this beast was made for.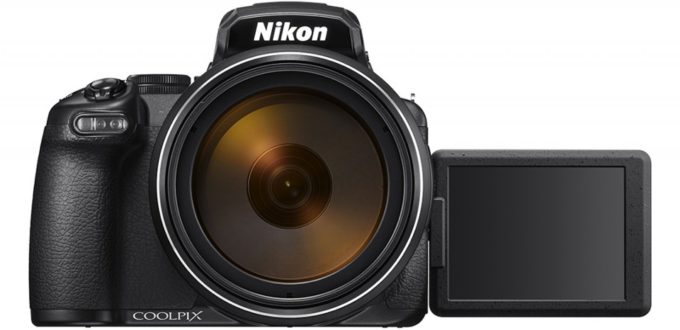 Seems like I am back in time to around 2011 or so, and I just received the latest and greatest from one of the largest camera manufacturers in the business. Wait…it is 2018 and I was just daydreaming.
I'm sorry, but this is why I only review cameras I like, and feel offer something special to the photographer. I say Spend $200 less and buy a BETTER camera with a larger sensor. 
Yes the camera I link to above is older, but will beat this for IQ and for video QUALITY and is smaller while offering a larger sensor. You do not get the 3000mm superzoom, not even close, just a
"short" 200mm but you get much better image quality and a Zeiss lens. I feel the Nikon is really trying to impress out of the gate with the 3000mm blip.  $1000 for this new Nikon and teeny sensor is not something I would personally recommend. I mean if you want or NEED 3000mm on the cheap (try getting 3000mm with a DSLR or Mirrorless) then maybe. But how often would one shoot at 3000mm? Birds..moon…stalking..spying…
The other thing besides using it for birds I will say positive about this is that it could be a camera for a family vacation, for those who are used to only using a phone and want a super reach, or for those where quality or size is not the top concerns. Taking a cruise and shooting at 3000mm or digitally enhanced 6000mm could be interesting as you set up your tripod on the ship..but wait the ship moves, so never mind. At 3000 or 6000MM this guy will have to be rock steady solid to avoid any shake. This camera is also much larger than your phone. At 16MP they kept the MP low enough but even so, with this sensor it could be a stretch as a sensor this size can excel in IQ at 10MP or less. The more MP squeezed onto this means more noise, less DR and less quality.
Nikon can do much better and I hope their upcoming "Sony A7 Killer" does better than this. In fact I have high hopes for it, and am going to purchase/pre-order as soon as it is announced as long as it appears half way decent. I have faith in Nikon, as they are legendary. I believe they could put up a good fight against Sony with a serious mirrorless. Nikon makes great cameras. Especially LATELY, so I expect the new IC Mirrorless to be something special, and I plan to review it fully with a long form, real world "heavy on the photos" review when and if it becomes a reality (HINT: It will).
I apologize to anyone who is excited about this P1000, but for me it doesn't hit on any of my excitement sensors in my body, on ay level. 
SIZE: HUGE
SENSOR: TINY
DYNAMIC RANGE: LIMTED
QUALITY: OK BUT LIMTED
ISO: WILL BE NOISY AS EVIDENT BY SAMPLES. NOT a low light camera at all.
WEIGHT: HEAVIER THAN THE P900, ALMOST double. 
3000MM: TO ME, somewhat gimmicky but I will wait to see some real world use with it at that focal length to judge. 
This camera, at 3000mm…well, it will not be the greatest quality and at f/8 you will need to crank the ISO in all but sunny daylight situations. Again, I have seen sample images and to me they look like they came from a P&S camera from many years ago, not 2018. Sharp? YES! Crispy? YES! Blown highlights? YES! Over sharpened look? YES! Lacking in DOF control? YES!
Maybe I am missing something, maybe I am in a bubble, maybe I am too old school or maybe I just do not get it. I could be wrong, maybe this is the best camera of 2018 for some of you out there. Maybe I am unschooled in the needs of a 3000mm large small sensor camera at a $1000 price point. Hmmm. Could be me. These are after all, my opinions just after reading the specs and seeing samples. Again, I have not used it so I could be 100% wrong here. I was wrong before, when I said negative things about the V1, and then ended up LOVING it and buying three of them, using it for over a year almost daily. 
So maybe I am wrong again. After looking back at my V1 review, which had a small sensor, I see quality I really like. I loved that camera. So hey, ignore what I just said..maybe this one is another camera that will surprise me. : )
What are your thoughts? Anyone here going to buy one?